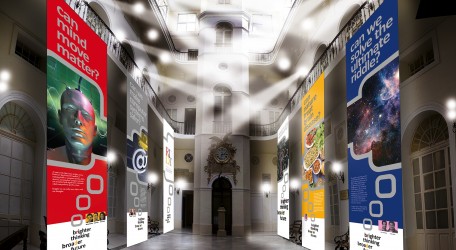 Brighter thinking, broader future. We live in a world that is changing almost beyond recognition. Increasingly inter-connected, and fiercely competitive, it is a world where the old order is challenged, and established societies are under pressure, to adapt and evolve or become irrelevant.  Innovation and the research that fuels it, are the only viable way for many societies to survive. This applies moreover to  Malta and the Maltese.
The Research Innovation and Development Trust (RIDT) will be welcoming visitors to a video presentation highlighting the University of Malta as an important centre for world-class research projects in addition to being a strong academic institution. RIDT will be present at the courtyard of the Chamber of Commerce in Republic Street, Valletta during Science in the City festival on 28th September from 6.00pm onwards.
Science in the City is the first national event in Malta appealing to people of all ages who are intrigued by how things work and by what science means for our lives. Many activities will show, in interactive and engaging ways, what researchers actually do for society. Science in the City forms part of the pan-European event Researchers' Night held every year on the fourth Friday of September aiming to bring the public closer to science and researchers.
Wilfred Kenely, RIDT's CEO said: "During Science in the City, the University will be highlighting the value and usefulness of science and research in our society.  We will also demonstrate how this research contributes to a better quality of life.  However, for important projects to go on, adequate funding is required. Without funds the whole process of innovation, and the research which drives it, simply cannot continue."
"RIDT's mission is crucial and the Trust welcomes contributions – be they large or small – from graduates, the public and naturally entities and commercial organisations of various types. Our society as a whole stands to benefit from such funding, now and in the future."
The University of Malta is inextricably linked to the "brighter thinking" institution. Founded in 1769, it has shaped Malta to grow as a nation.  Over the centuries our University has produced Malta's intellectual driving force: graduates who went on to become academics, thinkers, administrators, technocrats, professionals, prime minsiters and presidents – men and women who have transformed Malta into a civilised, developed country within the European mainstream.
Established in 2011, RIDT aims to attract funds which can strengthen investment in high calibre research and development across every faculty within the University.  RIDT will be happy to meet members of the public and representatives of entities at the Chamber of Commerce from 6.00pm onwards to discuss options for support. For more information about RIDT please visit: www.ridt.org.mt
Malta Café Scientifique short talks on Saturday 29th September
Moreover on the 29th September, RIDT, in collaboration with Malta Café Scientifique, will present a series of four short talks at the Chamber of Commerce. Sex, drugs, beer and the earth will be the main topics and the public is invited to participate in the discussions. The 30-minute talks will be held on the hour between 8.00pm and 11.00pm. No special science background is required.
The eloquent speakers will be Dr Kris Zarb Adami, Prof Richard Muscat, Martin Polidano and Dr Sandro Lanfranco. Dr Zarb Adami will discuss the earth's existence in his talk entitled: 'In Search of Another Earth' at 8.00pm.  Prof Richard Muscat will tackle the effects of drugs of abuse on the brain in his presentation called 'Sex, Drugs and Rock 'n' Roll' at 9.00pm. The science of beer and a perfect pint by Martin Polidano will be presented at 10.00pm. The fourth talk by Dr Sandro Lanfranco will be based on the history of sexuality in Malta entitled "Sex and the City" and will start at 11.00pm.
Seating will be available but limited and admission is free of charge. Malta Cafe Scientifique is supported by the Malta Chamber of Scientists.
Science in the City festival is supported by the EU FP7 Programme and the Malta Arts Fund.  The event is coordinated by The University of Malta, in partnership with the Valletta Local Council, MEUSAC, Malta Council for Science and Technology, Malta Council for Culture and the Arts, Where's Everybody, Malta Chamber of Scientists, Notte Bianca, iCreatemotion, Lily Agius Gallery, St James Cavalier, Microsoft Innovation Centre Malta and the University's Research, Innovation and Development Trust (RIDT).
Further details can be obtained from: www.scienceinthecity.org.mt; and on Facebook: www.facebook.com/ScienceInTheCityMalta