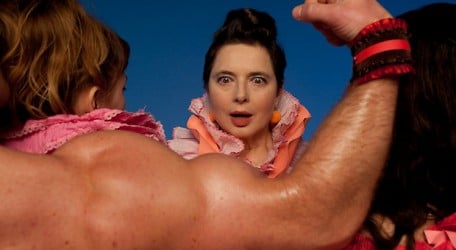 'Green Porno' is a series of short films by Isabella Rossellini (pictured above) about the sex lives of animals. There are certain things that one does not expect to hear Rossellini say. Things like "I have sex several times a day. Any opportunity. Any female" or "to have babies, I need to mate with a hermaphrodite in the 69 position." There are plenty of delightfully unexpected things in 'Green Porno'.
Both scientifically accurate yet extremely entertaining, 'Green Porno' is produced by Isabella Rossellini, Jody Shapiro and Rick Gilbert in association with Sundance Channel. The short films feature Rossellini as she acts out the reproductive habits of marine animals and insects.
This series will be screened during 'Science in the City' on Friday 28th September at the Upper Galleries, St James Cavalier, from 6.00pm onwards. In addition, on that day at the Cinema Room, there is a Science Film Festival of science-fiction and science-related films.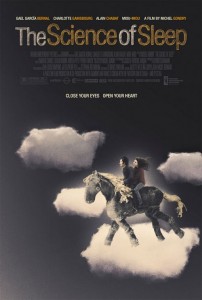 A fantasy comedy film Science of Sleep features Gael García Bernal (The Motorcycle Diaries, Fidel), who plays Stéphane Miroux, a shy insecure young man, who agrees to come to Paris after the death of his father in Mexico, to draw closer to his widowed mother Christine. He lands a boring job at a calendar-making firm and falls in love with his charming neighbor Stéphanie. But conquering her is no bed of roses. The film explores mental disease through beautiful stop motion animation and film. Science of Sleep starts at 6.00pm.
A cult-classic Gattaca, explores a dystopic future built of genetic engineering and features Ethan Hawke, Uma Thurman and Jude Law. In the not-too-distant future, a less-than-perfect man wants to travel to the stars. Society has categorized Vincent Freeman (Ethan Hawke) as less than suitable because of his DNA and is assigned to an underclass of humans that are only useful for menial jobs. To move ahead, he assumes the identity of Jerome Morrow, a genetically perfect specimen who is a paraplegic due to a car accident. The police get involved and begin an investigation, which jeopardising his secret. Gattaca starts at 8.00pm
A sci-fi legend Twelve Monkeys is one of Terry Gilliam's finest movies. In 1996, an unknown and lethal virus wipes out five billion people. Only 1% of the population has survived by the year 2035, and is forced to live underground. A convict (James Cole; Bruce Willis) reluctantly volunteers to be sent back in time to 1996 to gather information about the origin of the epidemic (who he's told was spread by a mysterious "Army of the Twelve Monkeys") and locate the virus before it mutates so that scientists can study it. Unfortunately Cole is mistakenly sent to 1990, six years earlier than expected. Twelve Monkeys starts at 10.00pm.
There is free admission to the Science Film Festival during Science in the City on the 28th  September. For more details please visit: www.sjcav.org.mt
'Science in the City' festival forms part of the EU-wide celebration called Researchers' Night on 28th September. The festival is supported by the EU FP7 Programme and the Malta Arts Fund.  The event is coordinated by The University of Malta, in partnership with the Valletta Local Council, MEUSAC, Malta Council for Science and Technology, Malta Council for Culture and the Arts, Microsoft, Where's Everybody, Malta Chamber of Scientists, Notte Bianca, iCreatemotion, Lily Agius Gallery, St James Cavalier and the University's Research, Innovation and Development Trust (RIDT).