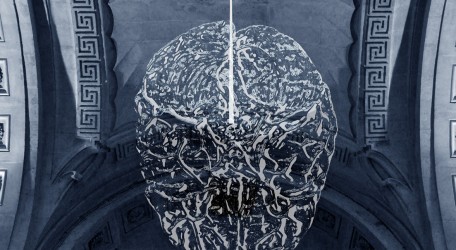 Pictured above:  Raphael Vella's sculpture – 'Cortex' which will be set up under the arcades outside the National Library.
A transparent sculpture, made of twelve thin acetate sheets that looks like a human brain, is actually composed of slices of brains of 12 different mammals. From the more exotic species like the Rhesus monkey or the Californian sea lion to domesticated animals like a goat and a horse, these represent different type of brains.
A slice of the human brain is also included, but the audience will have to guess which one is it?  What makes the human being stand out among fellow creatures in the world?  And what makes us similar to other animals?  This sculpture helps us to reflect about the different physical and behavioural factors that make humans similar to other animals that have often been perceived to be 'inferior'.
Created and named 'Cortex' by artist Raphael Vella, the acetate sculpture is one of the science-based art works created purposely for the first edition of 'Science in the City'. Curated by Lily Agius Gallery, 'Cortex' will be hanging under the arcades outside the National Library in Pjazza Reġina on Friday 28th September. The event is sponsored by Nexos Lighting Technology, and aided by Dr Mario Valentino and his team.
The installation is made of sheets of acrylic joined together to look like a brain structure.  Each section comes from a different mammalian brain: the rhesus monkey, the goat, the horse, the zebra, the Californian sea lion, and several others.
'Science in the City' forms part of the pan-European Researchers' Night held annually with the aim for adults and kids alike to creatively engage with science in a more entertaining way.
From 6.00pm onwards the main streets ofVallettaand a number of venues and spots will be hosting various interactive science shows, hands-on experiments, science films, talks, discussions, science-inspired art and installations and a carnival parade. The public is invited to participate and experience art and science.
'Science in the City' festival is supported by the EU FP7 Programme and the Malta Arts Fund.  The event is coordinated by The University of Malta, in partnership with the Valletta Local Council, MEUSAC, Malta Council for Science and Technology, Malta Council for Culture and the Arts, Where's Everybody, Malta Chamber of Scientists, Notte Bianca, iCreatemotion, Lily Agius Gallery, St James Cavalier and the University's Research, Innovation and Development Trust (RIDT).
Further details can be obtained from: www.scienceinthecity.org.mt; and on Facebook: www.facebook.com/ScienceInTheCityMalta