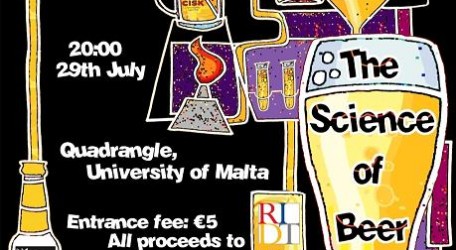 Beer, science, and the perfect pint at Evenings on Campus
Have you ever wondered how to make the perfect pint of beer? What about, how beer is made? How much hops do you use? What type of yeast? How can you make 1,000 beer varieties that all taste different, using just a handful of ingredients? What is the science behind beer?
Martin Polidano, Brewer & Process Block Manager at Farsons, will give a Malta Café Scientifique talk on 'The Science of Beer' at this year's Evening on Campus. The talk will be held on Sunday 29 July, at 8.00pm at the Quadrangle (Atriju Vassalli), University of Malta. The Farsons Foundation is sponsoring the event and will be providing complimentary beer to go with the evening's theme.
Martin will weave historical fact into a journey through the science behind beer, revealing who invented brewing, and who can lay claim to pouring the first pint. Beer was one of the first uncontrolled experiments, with chance, the Bronze Age, and seasons all shaping today's brews.
Modern brewing leaves very little to chance. Martin will be giving a personal insight into the whole process: from the carefully controlled compounds brewers measure to satisfy people's taste for a perfect pint, to the huge breweries that quench one's thirst in summer.
Ticket proceeds will be donated to RIDT, the new Research, Innovation and Development Trust of the University of Malta. For more information about RIDT please visit: www.ridt.org.mt
Malta Café Scientifique (http://www.facebook.com/Malta.Cafe.Scientifique) is supported by The Malta Chamber of Scientists and the Malta Council for the Voluntary Sector, and aided by the University of Malta.
Tickets are available at €5 at the door, or from Room 133, Administration Building at the University of Malta. Bookings can be made via email: [email protected]
tel: 2340 2043/2340 2142 or via sms on 79843480.