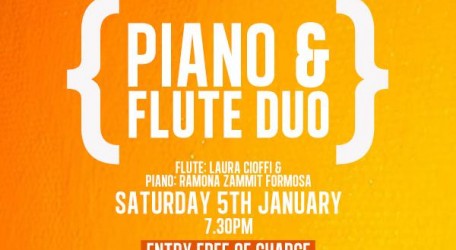 The second concert in the new Young Artist Series organized by the Salesian Theatre will take place on Saturday 5 January at 7.30pm at the Salesian Theatre in Sliema. Entitled "Baroque & Blue", the performers Laura Cioffi (Flute) and Ramona Zammit Formosa (Piano) seek to explore the nationalistic traits of Europe Baroque Music in the context of a modern performance. How is music which is almost three hundred years old still relevant today and how far reaching are the influences of this style?
Laura Cioffi has been playing the flute for the past 12 years and has performed in most major venues in Malta. She has performed with the Malta Philharmonic Orchestra, the Malta Youth Orchestra, the European Union Youth Orchestra and BISYOC Youth Orchestra, among others. She has also attended various masterclasses both locally and abroad. She is currently reading for a BMus in Flute Performance under the tuition on Andrea Kuypers at Edinburgh Napier University. Her studies are being funded by the Ian Tomlin Malta Music Scholarship and the Malta Arts Scholarship Scheme. Laura debuted as a soloist with the Malta Philharmonic Orchestra last March with a performance of Chaminade's Concertino for Flute and Orchestra.
Ramona Zammit Formosa is one of Malta's foremost accompanists and one of the few to specialize in harpsichord performance, as well as being an accomplished flautist in her own right. She has studied in Holland with Prof. Marcel Baudet and at the London College of Music with Bryce Morrison. She regularly performs as a duo with her husband flautist Silvio Zammit and together they featured in many solo and chamber recitals both locally and abroad. They recorded three CD's featuring works by Carmelo Pace, Charles Camilleri and 18th and 19th century Malta related compositions together with the Gukulari Ensemble, of whom she is a founder member. She currently teaches flute and piano at the Johann Strauss School of Music, Valletta.
Admission Free
Free car parking at the St. Patrick's School ground.