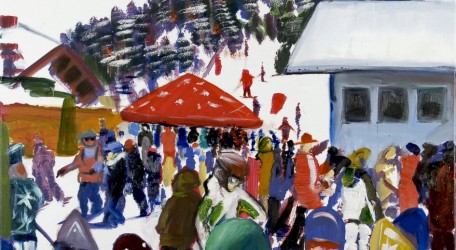 Photo above: The Resort Tyrol on Acrylic 
An art sale featuring works by locally established artist Pauleen Micallef is to be held at Inspire in Marsascala between the 14th and 16th of July.
The artist's works include floral, land/seascapes and farmhouses. However her main focus is portraiture and the human figure, painted from live. She has attended various workshops with local and international artists: paints 'en plein air' and has been doing so, for over 30 years. She has participated in Art exhibitions with icons, like Anton Agius and Gabriel Caruana and collaborated in various Art sales for philanthropic reasons: Her works may be viewed on www.pauleensart.eu
25% of the proceeds of works purchased during the art sale will go towards The Inspire Foundation. Pauleen is offering free orginal cards with good purchases.
The general public can view the works of art at the main reception at Inspire, Marsascala (formerly known as Razzett tal-Ħbiberija) on Thursday 13th from noon till 7pm, Friday 14th and Saturday 15th from 10am to 7pm and on Sunday 16th from 10am until noon.
The art will also be auctioned online on www.auction.inspire.org.mt until the end of July 2017.
The Inspire Foundation believes that everyone has the right to equality and inclusion. It helps clients with a disability, offering both educational, theraputic and leisure services. It also advocates inclusion and educates the general public. Most of