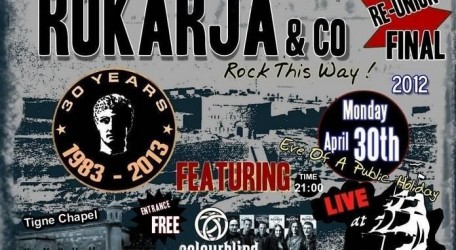 After the considerable success of the first rock reunion that Rokarja and Co organised at the end of March at the Black Pearl at Ta' Xbiex, the same organisers have the pleasure to announce that the second and final reunion will be held at the same venue on 30 April, the eve of a public holiday from 9pm onwards. Entrance is free.
This shall be the final reunion but more events are planned for the rest of the year. After hearing the great rock sounds of the group 12th Ode, for this second reunion, the guests will be Colourblind, fresh from their participation in the worldwide rock competition organised by Hard Rock Cafe.
Last month's event proved that there is great enthusiasm among musicians  to re-form their old bands and an eagerness to form new ones, and plans are being made to accomplish these goals.
This is a dream come true for Rokarja and Co, as  seeing the re-birth of bands that were popular in the 1960s, 1970s, 1980s and 1990s will help to realise the ambition of the three day concert being planned for some time next year.
The idea for this three day concert is to have no less than 21 bands representing all the different styles that rock and pop music have given us through the years.  These bands will involve Maltese rock and pop musicians of all ages, and there will also be space for young bands to participate as well. This concert will be filmed, edited and documented under the title Rokarja -The Legacy, leaving behind a lasting tribute for generations to come.
Those who could not make it to the first reunion are urged not to miss this one so that they can meet up with their old  friends from Malta's music scene, and exchange and discuss ideas on reforming their old bands.  Friends and family are welcome to join as are today's young up and coming musicians.
This second reunion will be streamed live so that it can be followed via internet by Maltese musicians who live in many parts of the world.
For more information please write to rokarja30yearlater@yahoo.com.