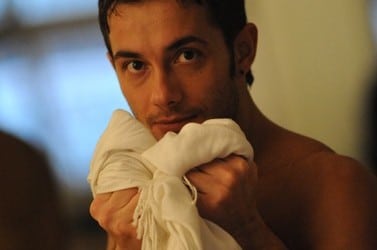 AMICI finalist  OLTI SHAQIRI will be giving a series of classes in modern dance & commercial dance  on Fridays & Saturdays during the month of May at INCITE MOTION.
Olti has studied dance at L'Accademia Di Danza di Tirana in Albania, at the Paris Opera Ballet & l'Accademia Nazionale di Danza in Roma. He has also worked with renowned Modern International & Italian choreographers including Raffaele Paganini, Steve la Chance, Andrè De La Roche, Garrison Rochelle, Mauro Mosconi, Marcello Sindici, Denys Ganio. Olti placed 5th in AMICI in 2004.
Olti has performed in Giselle & Don Quixotein Albania, and Carmina Burana, as well as Italian TV programmes which include "AGGIUNGI UN POSTO A TAVOLA", "PER NON DIMENTICARE" , "QUANDO LA DANZA è SPETTACOLO", as well as "CENTOCINQUANTA" on RAIUNO.
After his success in AMICI, Olti performed in the AMICI musical "Footloose", and has since participated in the musicals including "CALANDRINO" , "ROMA CAPUT MUNDI", "RAFFAELLO E LA LEGGENDA DELLA FORNARINA" "i promessi Sposi" and the upcoming  ROMEO & JULIET in 3d.
For more information on Olti's classes contact Astrid Gollcher on 9945 2545 or astrrid@incitemotion.com  & visit www.incitemotion.com