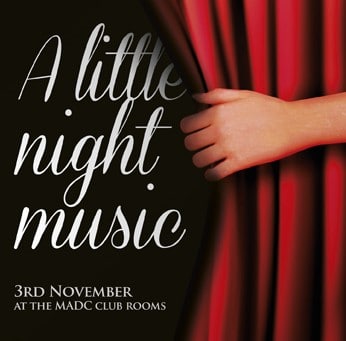 The MADC is proud to present a new addition to its regular season of theatre productions, A Little Night Music.  This cabaret style event, held on Saturday 3 November at MADC club rooms, Santa Venera will see some very talented individuals take to the stage with their renditions of songs from various Musicals.
Directing and producing the event is Gianella Mazzola who stated 'I'm very excited about having this idea come to fruition after so much planning.  The signers are immensely talented and the selection of songs will be touching as well as very entertaining for all those in attendance.'
The show is a recital with a vintage feel covering many popular musicals.  The talented cast comprises 8 singers, Alex Vella Gregory as pianist, and Kate de Cesare as the evening's hostess.
Unlike the typical theatre style seating arrangement, the audience will be sitting around small tables and be able to enjoy platters of food.  A complimentary glass of wine will be given on arrival and finger food will also be served during the intermission.
Ticket price is €15 and this includes platters and finger food.  Tickets are available at www.madc.com.mt or by calling 79796232.
Sponsoring the event is Farsons, Keith Zammit and Past Time Antiques.