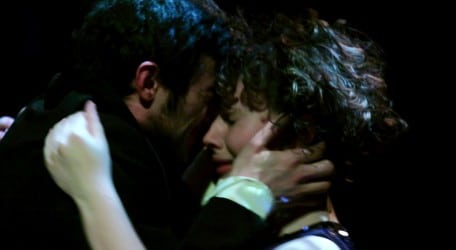 Photo credit: Christine Joan Muscat Azzopardi
"The only thing that we cannot cope with is when a parent loses a child.  Only that is too much for us.  Only that can drive us into madness."
Tender Napalm is a modern parable about love and loss.  A young couple lose their five year old daughter in a terrorist attack on a school playground.  What follows is a high-impact, high concept exploration of the relationship between the two people and the violent world that surrounds them.
Physical and energetic, the play explores the madness of the couple with explosive, poetic and brutal language and honesty, thus weaving a compelling tapestry to re-examine and re-define the language of love.
The couple deals with the loss of their child by telling each other stories, as is Ridley's trademark, and each of these stories reveals what happened in the playground and how the couple reacted to it.  We encounter subservient monkeys, marine monsters, aliens, crocodiles and sea gods as well as a father dying of cancer, a farewell party and a castration episode, all of which serve as background for the main story; that of the death of the child.  It is a play where fantasy meets reality, and where the walls separating the two crumble, creating a stark storyline that is the soaring imagination that Ridley has made all his own.
Following a successful run in January and February, Tender Napalm will be produced at the Edinburgh Fringe Festival in August 2014.  Leading up to that production, Unifaun are proud to bring the production back to St James Cavalier on the 2, 3, 4, 5 July at 8pm. 
Tickets can be bought on www.sjcav.org or tel no 21223216 or email [email protected].
The production is directed by Toni Attard, assisted by Lizzie Eldridge.  It stars Andre Agius and Bettina Paris.  Choreography is by Sandra Mifsud. Set Design is by Romualdo Moretti and  Lighting Design is by Chris Gatt.
Tender Napalm is supported by MAF Mobility Fund, St James Cavalier, 89.7 Bay Radio, Eden Culture and Malta Today.