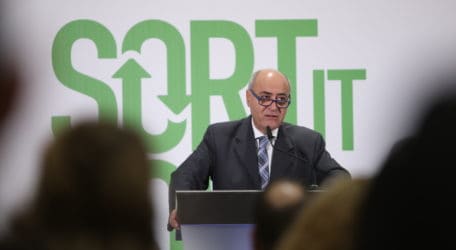 The launch of the separate collection of organic waste as from Wednesday 31 October 2018 signifies yet another milestone in improving Malta's waste management and bringing it up the waste hierarchy.  It is destined to begin a process of significant behavioural change in the way household waste is separated and collected in Malta. 
Separately collected organic waste will enable less waste to be sent to our landfill and its processing will yield clean energy which will be used to make our energy mix even greener.  It is also in line with the circular economy provisions, currently being finalized to be introduced within the environment legislative framework as, in future, compost may be produced from this waste and given to farmers for use in agriculture thereby improving the soil matrix. In doing so we are fulfilling our vision set out in the Waste Management Plan to adopt a resource management approach thus generating economic value from waste resources and mitigating the effects of pollution from waste.  It is Government's intention to eventually include waste separation as a legal obligation.  A carefree attitude is no longer sustainable when landfill space is at such a premium and when millions of Euros are being invested in the waste management sector.  It is in our collective interest to separate our waste for its resource value whilst minimising its pollution effects.
The Minister for the Environment, Sustainable Development and Climate Change Jose Herrera said that, "This initiative will provide additional means by which the public can help contribute towards a dramatic increase in the amount of waste being recycled. The collection of organic waste is just one step in a bigger waste management revolution which the Government is determined to see through in the very near future.  Government has committed to invest centrally in supporting collection and treatment costs of organic waste – it is now up to each and every one of us to support this investment for a better quality of life for current and future generations".
The environmental benefits from the enforced separation of organic waste for Malta will be significant. The collected waste is used for the production of energy, delivering clean electricity back to residents. Projections from WasteServ show that in 2019 16,000 tons of organic waste will be collected.
Parliamentary Secretary for Local Government and Communities Silvio Parnis who was also present for this Press Conference, spoke about the importance of recycling. He said that when one recycles it is beneficial for our environment since we will be taking care of our rescources and sending less waste to landfills. Silvio Parnis also said that organic waste separation, which will no longer be a pilot project, is a positive challenge because it will lead to further amelioration of the environment. Parnis concluded by appealing against discarding of waste in public places and encouraged everyone to start separating waste because only then we can have a cleaner country.
Tonio Montebello, Chief Executive Officer at WasteServ, said, "31 October 2018 marks the start of real change in the way that waste is separated, collected, and recycled in Malta. The organic waste collection is a major milestone in the lineup of projects we have planned and which will lead to a significant increase in the amount of waste being recycled."
Organic waste collections which will take place on Mondays, Wednesdays and Fridays are meant to collect all cooked and raw food including bones, fish and shellfish, bread and pasta, rotten fruit and vegetables, fruit and vegetable peels, tea bags and ground coffee, egg shells, napkins and soiled papers, leaves and flowers. 
More information is available at www.wasteservmalta.com or by calling the freephone number 8007 2200.