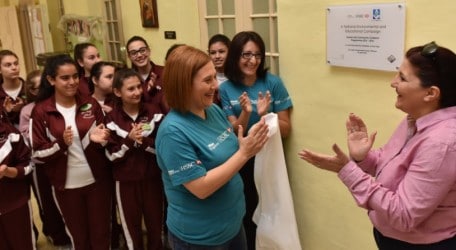 The HSBC Water Programme – Catch the Drop, held a special morning assembly at Our Lady Immaculate School, Ħamrun, to discuss the environment. The various eco-friendly steps by the school through the cooperation with the HSBC Water Programme – Catch the Drop were highlighted.
The campaign has financed the installation of 23 push taps to save on running water for years to come. On the same day, two sponsored stage shows presented by Generation Green Limited were held for the secondary school audience of the school, while two HSBC staff volunteers held a presentation for part of the junior school audience on water shortage and water conservation in Malta. A plaque attesting to the cooperation between the school and the campaign was also unveiled on the occasion.
Our Lady Immaculate School has played a major role in popularising the HSBC Water Programme – Catch the Drop, as it is where the campaign songs took birth. Songs 'Water is Life' and 'Catch the Drop' are available to download from popular music streaming services such as iTunes, Google Play, Amazon MP3, Spotify and others.
Their music videos can be viewed at https://youtu.be/DB7D2bOSLgE (Catch the Drop) and https://youtu.be/ZjQcvEFbtVI (Water Life).
One of the water song singers, Destiny Chukunyere, went on to win the Junior Eurovision Song Contest 2015 while representing Malta.