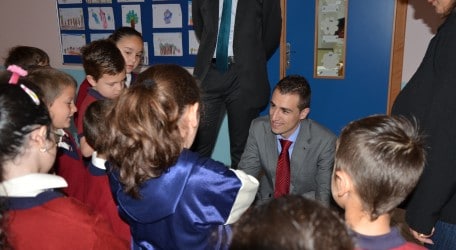 Ħaż-Żabbar Local Council has participated for the first time at the 2013 Book Week which was being organised at the Primary School A in Ħaż-Żabbar.
In a locality were illiteracy is still relatively high, the new local council this year felt the need to give more attention to this manner by directly participating during the Book Week, an event designed to encourage a love of books.
Today, a lot of children and young people prefer to play computer games and watch television rather than to spend time reading.  It very often happens that if educational disadvantages are not eliminated at an early age, in the slow-learning pupil, it becomes impossible to reverse the cumulative effects later on and remedial measures have little effect.
To this end, this year with the help of MUESEC and the Children's Commissionor, the Local Council offered free educational material to each student at the Ħaż-Żabbar Primary A.  Along side with a free book to each class at the Ħaż-Żabbar Primary B.
"Illiteracy is a setback for the whole society, therefore we believe in empowring our society in a fight against illiteracy and digital illiteracy, a big challenge which shall be holistically addressed in our work plan for the coming years" stated Mayor Quinton Scerri, who was accompanied by Councillor Joseph Vella during a visit along the Book Week to the local Primary School at Ħaż-Żabbar.
For this reason in the coming weeks, the Ħaż-Żabbar Local Council is going to take more initiatives aimed to improve and promote the importance of reading and enriching our children through education and creativity.