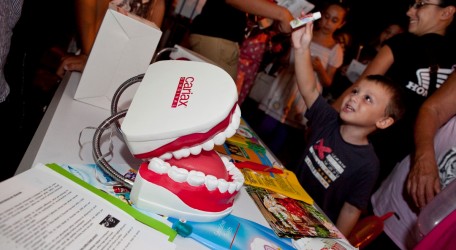 Live experiments, puppet shows, free health tests and a giant tooth are coming to Valletta on Friday 27 September from 6pm onwards for Science in the City festival. These activities are being organised by University of Malta student groups namely MADS, MMSA and S-Cubed. They are highlighting the important of science in our daily lives and investing in research.
The Malta Association of Dental Students (MADS) will be holding activities, experiments, and games at various stands dedicated to different age groups in St John's Street. The young scientists will conduct demonstrations on dental hygiene and will give advice on oral healthcare. Kids characters, tooth fairies and MADS's friendly mascot Molly the Molar will be entertaining and distributing balloons to young visitors.
Also at the health area in St John's Street, young scientists from the Malta Medical Students' Association (MMSA) are set to raise public awareness on various health issues and research projects. Themed 'Patient-centred Healthcare', they will recommend that prevention is better than cure, while mental healthcare will be given importance as much as physical health. The area for children will feature a 'Teddy-bearHospital', with the aim to reduce children's fear of doctors. Visitors will be able to have free tests for blood pressure and for blood glucose.
Along Republic Street, the S-Cubed team will provide a multidimensional display including live demonstrations, mini stands where the public can explore and discover by performing experiments themselves, as well as a science show at St. James' Cavalier. The S-Cubed team will present a fun interactive show called 'Zargo Comes to Earth'. This delightful show, characterised with a storyline centring on a puppet character to make the demonstrations easier to follow, will serve as a platform for primary school children to spark an interest in science.
A number of i-points manned by young scientists will be available in the main streets of Valletta to assist visitors with any information or queries. They will be equipped with mobile Apps to help visitors find their preferred activities.
The "Researchers' Night – Science in the City" festival is organised by a consortium of national organisations that is led by the University of Malta Research Trust, and the Malta Chamber of Scientists. The partners are MCST, Where's Everybody Ltd, Valletta Local Council, MEUSAC, the Public Broadcasting Services Ltd, MCAST, iCreatemotion, the European Commission Representation in Malta, the Malta Council for Culture and the Arts, Notte Bianca, Valletta 2018 Foundation, Malta Chamber of Pharmacists, King's Own Philharmonic Society and St James Cavalier. The project is supported by the Parliamentary Secretariat for Research, Innovation, Youth and Sports, Vodafone and Microsoft Innovation Centre.
The festival is co-funded by a competitive award from the EU's FP7 Programme and the Malta Arts Fund.