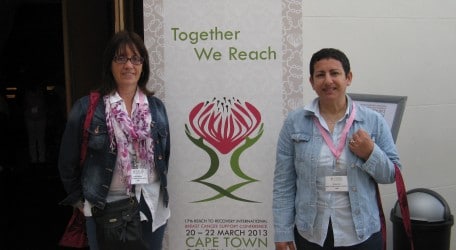 Every woman has a right to comprehensive breast health policies, a world conference held in Cape Town, South Africa, recently told over 500 delegates from 46 different countries. Malta was represented by the Action for Breast Cancer Foundation (ABCF).
'Together We Reach' was the theme chosen for the 17th Reach to Recovery International annual conference, which brought together scientists, healthcare professionals, politicians, industry and breast cancer patients to discuss and share knowledge on the fight against breast cancer.
Internationally, there are 1.4 million new cases of breast cancer annually; every 74 seconds someone dies of breast cancer. Studies show that the environment is a link to the disease, as has been long advocated by the Health and Environment Alliance (HEAL) in Brussels, of which ABCF is a member.
"Women and the unborn child are being exposed early in life to Endocrine Disrupting Chemicals (EDCs) from products we use on our body in our everyday lives," says Esther Sant, ABCF co-founder who attended the conference with ABCF's HEAL representative in Malta Sarah Cardona. "Pesticides on our food is another big issue, as is plastic found in food packaging or shower curtains, for example. Personal care products are absorbed by the skin into the blood stream, so any EDCs there are a real threat, affecting  the genes."
Thankfully, there are many alternatives to these products in all categories so it is a matter of education at an early stage, says Ms Sant.
Early education about breast cancer and self-examination should be encouraged, the conference heard. Equally, consumers must start to read product labels to decide whether to stick to the product or change to a more natural alternative. Sourcing healthier fresh food, cutting down on processed products, and exercise were other good practices mentioned.
A movie presentation showed how large cosmetic companies were 'pink washing', using the pink bow of breast cancer on their products to raise money to fight the disease when in reality their products contained carcinogens. Th conference heard how money collected from these causes is not always known where it ends up.
On a final note, the conference heard how the time has come to push for improvement in women's healthcare through education, awareness, diagnoses and screening, targeted treatment, psychological support and advocacy involving the breast cancer patient at the forefront of the policy- making agenda.
"Conferences like these do not only empower survivors to claim their rights but also bring together scientists to facilitate skills and knowledge-sharing to have a better understanding of breast cancer in the hope of eradicating it one day," says Ms Sant.