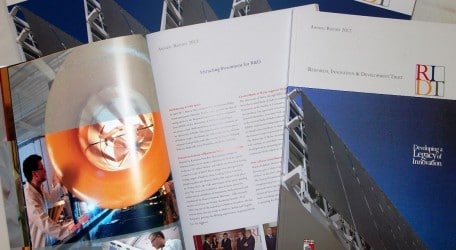 The University of Malta is intensifying its efforts to raise funds for a sustainable research activity. This is featured in the first Annual Report of the Research, Innovation and Development Trust (RIDT) that  can be viewed online at www.ridt.eu
During its first full year of operation, RIDT engaged with the community to attract support for research. Operating with the objective of developing a legacy of innovation, the Trust made good progress and managed to attract an encouraging number of donors and benefactors from different sectors of society – private companies, public institutions, individuals, students, alumni, foundations and organisations.
The University Rector Professor Juanito Camilleri said: "In view of the historical and current context, the University of Malta  must rapidly build a corporate research portfolio in tandem with the outreach mechanisms to contribute directly to sustainable socio-economic development."
"The setting up of the University's RIDT and the updating of legislation to allow tax incentives for donors have been two crucial steps forward. Investment in the University of Malta is an investment in the future of our country," added Prof Camilleri.
Research at University spans an impressive array of areas and applications, such as medicine, energy and environment, engineering, ICT, heritage, art, economics etc…all of which will benefit the Maltese community.
Wilfred Kenely, RIDT's Chief Executive, said: "RIDT aims to strengthen investment in high-calibre research and development across every faculty and department within the University and on a national level, and to foster the commercial exploitation of this research."
This Annual Report highlights RIDT's community involvement, a small selection of the University's ongoing research projects, the results of the Trust Fund for 2011-2012, as well as gives credit to all those donors who contributed in 2012.
"Our appeal for 2013 is to take this funding to a new level by attracting even more individuals and organisations to support RIDT. By supporting research, we are fostering the next generation of researchers while we build a society that appreciates and supports their sterling work," continued Mr Kenely.
Donations, which could be given towards specific areas of interest or to the University's Trust in general, are tax deductible and can be donated via its online portal www.ridt.eu