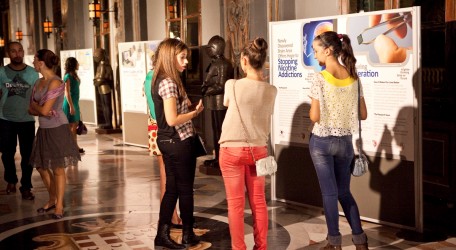 The University of Malta has won the EU bid to hold the 'European Researchers' Night' known as "Science in the City" in Valletta on the last Friday of September 2014 and 2015. Funded through the Marie Skłodowska-Curie Actions by the European Commission, the events are intended to bring together the public and researchers from across the Union. The Research Trust (RIDT) of the University of Malta and the Malta Chamber of Scientists are among the main collaborators of the consortium led by the University.   The competition this year was stronger because of a larger number of applicants submitting proposals.
"Winning the bid for EU funds to host the European Researchers' Night for the next two consecutive years will be helping us to enhance the event into a showcase of research" said Professor Alex Felice, Programme Director of the Researchers' Night Consortium. "On Friday 26th September 2014, the public will have the opportunity to interact with researchers and scientists, and participate in many of the entertaining science – inspired activities, all taking place in the capital Valletta." The entire programme shall shortly be posted on www.scienceinthecity.org
"Following the tremendous success of the previous two editions of "Science in the City", we are consolidating our energies to offer a better product to thousands of people who visit Valletta for the science festival. We have engaged professionals who will be handling the artistic and logistics elements of the festival. In this way, the researchers shall focus on the scientific and technological content of the various activities," added Professor Felice.
One of the main concepts of Science in the City, European Researchers' Night has been to combine fascinating artwork with intriguing science. It also serves as a platform for the University Research Trust to bring to the fore the constant need for funding of research by the public, the state and the private sectors.
"Science in the City gives the public a chance to learn about important research projects that are currently being undertaken within the various faculties at the University of Malta, while enjoying a friendly and relaxed environment," said Mr. Wilfred Kenely, Associate Program Director and Chief Executive Officer of the Trust.  "At University there is sterling research going on but in order for this research work to continue, University needs continuous funding."  The Research Trust (www.ridt.eu) has been set up to attract a flow of funds from private and public entities as well as from the community.
The Researchers' Night is a Europe Union-wide event bringing together the public and researchers every year on the fourth Friday of September. It is becoming one of the EU's most popular initiatives, aimed at the general public, especially families, young people and those who might not see themselves as science fans.