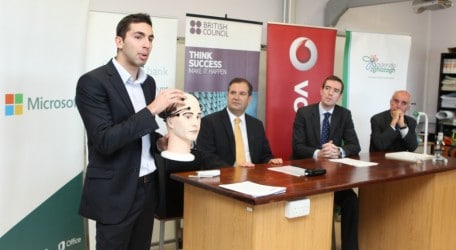 Pictured above: Biomedical Engineer Dr Owen Falzon with Dr Stefan Buontempo, Mr Rob Luke and Francis Stivala
School Lab: introducing new science video competition for secondary schools
How do plants know that they have been touched? How do cabbages keep warm in winter? How does a virus mutate? Why do men have nipples? These and similar unusual yet pertinent questions covering the most fascinating scientific facts to the downright weird ones, can serve as topics for the FameLab Malta and School Lab competitions.
The British Council, the National Student Travel Foundation (NSTF) and the Research, Innovation and Development Trust (RIDT) of the University of Malta have teamed up with FameLab, the biggest international search for new voices of science and engineering, to give enthusiastic early career scientists and researchers in Malta the chance to demonstrate their skills in this event.
This is the second time that Malta is participating in FameLab, an international competition spanning over 20 countries across Europe, Asia, Africa and the United States in the search for the next top science communicator.
In addition to FameLab Malta competition, the British Council and NSTF launched School Lab 2014 – a science communication video competition for secondary school students attending Form 1 to Form 4.  The first edition of School Lab aims to inspire students to learn and talk more about science, and make their school science experiences creative and fun.
FameLab Malta and School Lab are being organised with the support of the Parliamentary Secretariat for Research, Innovation, Youth and Sport, Microsoft, APS Bank, Vodafone, and Stage Malta.
The launch of FameLab Malta and School Lab competition was announced by the British High Commissioner Rob Luke during a press conference held today at St Margaret Boy's Secondary School in Cospicua. Mr Luke said: "Last year's FameLab Malta competition was a roaring success. This year we want to do even better, with even more contestants. So if you are working in science, technology, engineering or maths please get involved. Making science come alive for non-scientists in just three minutes is a tall order. But passion and enthusiasm goes a long way. I wish all the contestants the best of luck".
Parliamentary Secretary for Research, Innovation, Youth and Sport, Dr Stefan Buontempo said that in Malta, the percentage of undergraduates reading in a science subject is only of 15% according to the 2011 Eurostat statistics, when compared to the European average of 23%.  The Government is working towards increasing this percentage to bring it closer to the European average.
Biomedical engineer Dr Owen Falzon was last year's winner of FameLab Malta. He placed Malta among the top 10 countries in the Famelab International competition final at The Times Cheltenham Science Festival in the UK in June 2013. At the press launch, Dr Falzon captivated the audience when he conveyed the wonder of his winning concept in three minutes.
RIDT's CEO Wilfred Kenely said that FameLab provides an excellent opportunity to promote young scientists and their research. "We strongly believe in FameLab's objective, that of giving young scientists a platform from where they can communicate their science and research projects. Contestants do not only present their scientific progress to a broader non-scientific audience but are able to communicate what they do.  Making science accessible and attractive through good communication helps support public funding for research, which is very much in line with the RIDT's mission."
Contestants will have three minutes to pitch a concept in science or engineering and deliver a talk to a panel of judges. Each judge will assess the finalists' presentations on three qualities: content, clarity and charisma. Auditions for FameLab will be held at MCAST Institute of Applied Sciences on the 5th April 2014.   Participants aged 18 years and over can register online on www.famelabmalta.org.mt.
The Malta finalists will get the chance to take part in a weekend Masterclass with a British expert in media and communication skills. The winning prize consists of a fully covered trip to the UK to compete and represent Malta in the Cheltenham Science Festival from the 3rd to 8th June 2014.
Past winners of FameLab have gone on to travel the globe, perform in festivals and feature on national TV and radio, and many combine public-facing activities with on-going research. Generally all finalists become part of a global network of science communicators.
School Lab
The science communication video competition is open to Form 1 to Form 4 students from all secondary schools in Malta and Gozo. Students can form a team of two to five and present a scientific subject in an interesting and fun video. Videos should be 3 to 5 minutes long and should be uploaded on YouTube and the link sent with participants details to the website: www.famelabmalta.org.mt/school-lab
Deadline for videos is 30 March 2014. A panel of judges will choose 10 finalists and the general public will also be able to vote for their favourite until 9 April 2014. The overall winner will be selected at the NSTF Science Expo, taking place from 7 to 10 April 2014. Prizes will be awarded to the best teams and all participating teams will receive a certificate.
For more information about FameLab Malta and School Lab competitions, please email [email protected] (for FameLab)  or  [email protected] (for School Lab)
Photocaption 3: (From left) RIDT CEO Wilfred Kenely, Biomedical Engineer and University of Malta Lecturer Dr Owen Falzon, NSTF Science Programmes Coordinator Karl Agius, NSTF Secretary General Francis Stivala, British High Commissioner Rob Luke, Parliamentary Secretary Dr Stefan Buontempo, Country Director of the British Council Ingrid Eomois, British Council Project Manager Martha-Marie Gauci