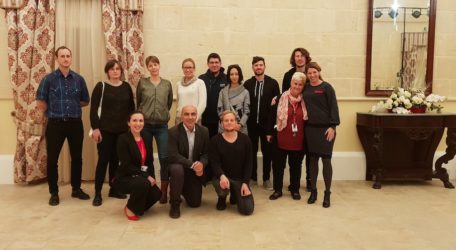 Esplora Interactive Science Centre, a department within the Malta Council for Science and Technology, is proud to announce the start of a three-year Erasmus+ project 'C-SDGs; Embracing the Sustainable Development Goals through Creative Arts'.
The project is a strategic partnership action co-funded under the Erasmus+ programme. The launch took place at Esplora on Monday 26th and Tuesday 27th November 2018 by means of a transnational meeting between project partners.
The project is a collaboration between four Maltese organizations (The Malta Council for Science and Technology, University of Malta, Lignin Stories and Fondazzjoni Ċentru Kreattività) and four organisations based in Europe, acting as their international counterpart (Copernicus Science Centre, Poland; Picapipe, Austria; Seven Stories, The National Centre for Children's Books, UK and OFF Alapitvany, Hungary).
The project will run from November 2018 to August 2021 and will address the United Nations 2030 Sustainable Development Goals (SDGs), focusing on three in particular: #4 Quality Education, #5 Gender Equality and #14 Life Below Water. Three Creative Art forms – Digital Games, Storytelling and Dance – will be used to raise awareness on these global issues through informal and innovative methods of learning.
The partner organizations will have the opportunity to explore scientific concepts through creative forms by transcending traditional barriers and by sharing best practice during training opportunities developed through the project and transnational meetings.
The resources developed as a result of this partnership will be freely available for everyone to download and will also be exhibited in the two science centres involved in the project; Esplora in Malta and Copernicus in Poland. Educators, artists and science communicators will be given the opportunity to attend workshops on how to use the resources developed so that they can subsequently be utilized with students in their classroom.

The public will also have the opportunity to discover more about the selected SDGs in an informal environment through the use of Storytelling, Dance and Digital Games at Esplora Interactive Science Centre through public engagement events which will be organized in 2021.
Esplora's first Erasmus+ project RAISE has just started its second year of implementation and will now be focusing on tackling stereotypes often associated with STEM careers. Project partners will also be working on developing an app to raise awareness and interest in STEM careers. This will be freely downloadable to the general public in 2020. For more information on the project, one can follow the project's Facebook page 'RAISE Project' or visit the project website on https://raiseprojecteu.com/
Up-Skilling in Science Communication, another ongoing Erasmus+ Learning Mobility project, has given the opportunity to a group of Esplora employees to attend a Job Shadowing experience abroad at Heureka, a Science Center in Vantaa Finland. Two other groups of employees will benefit from the funds made available by the European Union Programmes Agency and will be going on a job shadowing experience abroad in the coming months, which we are sure will bring long-lasting benefits to the participants and to the Malta Council for Science and Technology.