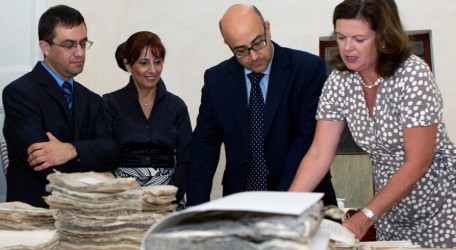 Pictured above: Minister Dr Jason Azzopardi (third from left) during a recent visit to the Notarial Archives in Valletta, together with (from left) Acting Chief Notary to Government Dr. Paul Callus, Dr. Joan Abela, and HSBC Malta Foundation deputy Chairperson Sarah Watkinson
HSBC Malta Foundation is supporting the preservation of historical documents by helping improve storage conditions at the Notarial Archives at St Christopher Street, Valletta. This building is home to over twenty thousand registers containing notarial records and other historical documents dating back to the late 15th century.
"The Notarial Archives hold an invaluable collection of records offering historical insights that form snapshots of daily life and activities in Malta over a period of six centuries, said Minister for Fair Competition, Small Business, and Consumers Dr Jason Azzopardi. "The HSBC Malta Foundation's valuable support and employee voluntary contribution exemplifies the significant role of corporate sustainability within our society."
Part of HSBC's financial support will fund the implementation of a system designed to stabilise the environmental conditions within the building housing these important documents
"In addition to their generous sponsorship, the HSBC Malta Foundation has for the past two years contributed towards the ongoing digitisation project by supporting over 150 HSBC employees who do voluntary work at the Notarial Archives in connection with the digital imaging of sixteenth-century volumes," said Notarial Archives Resources Council member Dr. Joan Abela.
The Notarial Archives Resources Council (NARC) aims to ensure that the rich collection of notarial documents is preserved and protected in a professional, efficient and accessible manner for future generations of researchers. Moreover, NARC envisions the transformation of the Notarial Archives into a leading centre for Maltese historical study which will be fully accessible to both the local as well as the international research community.