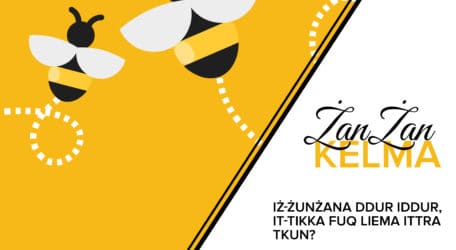 On Wednesday, 19 September, Għaqda tal-Malti – Università will be organising its second edition of the Spelling Bee in Maltese in Spazju Kreattiv, Valletta, from 18:00 to 20:00. This will take the form of a competition for children between 8 and 13 years old, split between two sessions; the first for children who are between 8 and 10 years old, and the second session for children between 11 and 13 years old.
The participants of each session shall be on stage, taking it in turns to spell a given word. If a word is spelled right, the participant is given a point, if not, the word does not go to the next participant, but s/he is given a new word. All the words shall be spontaneous. The first 3 winners in each session shall be given a set of books, sponsored to us by Merlin Publishers, as well as a certificate of participation.
So as to ensure that the words are indeed spelled correctly, some members of Għaqda tal-Malti – Università will be with us as jury. The event shall be presented by Malta's favourite duo, Danusan.
We encourage the public to apply for this event so that we may promote Maltese in an innovative way.
This is an ancillary event, to be followed by the European Day of Languages celebration on the 22nd of September in St Anne's Square in Sliema, between 19:00and 21:00. In collaboration with the European Commission Representation in Malta and Spazju Kreattiv.