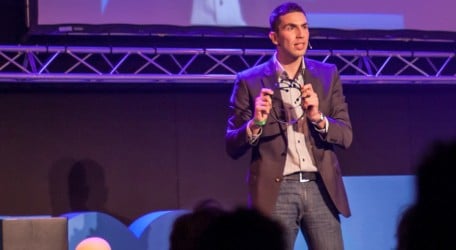 Biomedical engineer Dr Owen Falzon represented Malta among the top 10 countries in the Famelab International competition final at The Times Cheltenham Science Festival last week. Owen competed against 21 other countries, including Hong Kong, South Africa and Germany in the semi-final, of which 10 contestants were chosen for the final. The Irish environmental scientist Fergus McAuliffe from the University College Cork won FameLab International 2013 with a story about frozen frogs.

Fergus McAuliffe pitched a complex scientific idea in just three minutes to the panel of judges, which included: Professor Kathy Sykes from University of Bristol and co-director of the festival; John Worne, British Council's Director of Strategy and Marko Kosicek, biochemist at Ruđer Bošković Institute, Croatia and 2008 FameLab International winner. Fergus also won the audience vote.

During the final, the judges and the audience warmed to Fergus' performance on how the wood frog (Rana sylvatica) blurs the line between life and death. His talk explained how the wood frog's unique physiology allows it to literally freeze solid in winter and thaw in spring without dying. Operating these mechanisms may save thousands of lives if applied to human organs during transportation from donor to recipient.

The runner-up prize was awarded to Andrea Gelemanović, molecular biologist at the University of Zagreb in Croatia for her pitch questioning how human we really are considering that we have several kilos of bacteria living inside us.

This year's FameLab International Final featured the winners from Austria, Bulgaria, Croatia, Cyprus, Czech Republic, Egypt, Germany, Greece, Hong Kong, Israel, Italy, Ireland, Lithuania, Malta, Poland, Portugal, Romania, Serbia, South Africa, Switzerland and UK.

During their time at The Times Cheltenham Science Festival the FameLab contestants were able to meet prominent scientists and presenters from around the world including Nobel prize winner James Watson, Peter Higgs, Matt Ridley and Alice Roberts among many others.

The FameLab competition is the brainchild of The Times Cheltenham Science Festival. Since its birth at Cheltenham Science Festival in 2004, FameLab® has grown into arguably the world's leading science communication competition. A partnership with the British Council since 2007 has seen the competition go global.

In Malta, FameLab was organised by the British Council (Malta) in partnership with University of Malta, Research Innovation and Development Trust (RIDT), and with the support of Actavis, Microsoft Innovation Centre, Vodafone, Teatru Manoel, Malta Chamber of Scientists and St James Cavalier Centre for Creativity. FameLab helps young scientists acquire valuable skills to communicate their work to a non-scientific audience. By doing so, researchers not only change the common stereotype of the scientist as "the geek in the white lab coat busy doing strange things", but also justify public funding for their research.

Dr Owen Falzon's video can be seen below

.