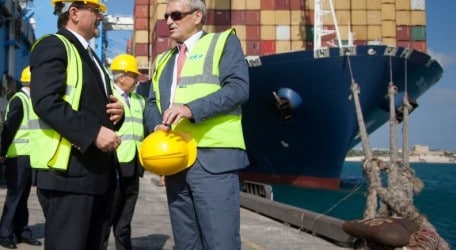 Pictured above:   Malta Freeport Terminals CEO Mr Uwe Malezki (right) with the University Rector Professor Juanito Camilleri at the Malta Freeport
Malta Freeport Terminals Ltd and the University of Malta have agreed to enter into discussions regarding specific advanced research to be carried out by the University in areas of interest for the Freeport. The two parties nominated a technical working group to further specify the comprehensive research required by the Freeport.
In return, Malta Freeport Terminals Ltd will be supporting the Research, Innovation and Development Trust (RIDT) of the University of Malta, over a five year period starting 1st January 2013. The funds will be received through the University's Research Trust, and will be administered by RIDT's Board of Trustees.
The agreement was signed  by CEO Mr Uwe Malezki, on behalf of Malta Freeport Terminals  and by the University Rector, Professor Juanito Camilleri. Two members of the Trustees Board, Mr Anthony J. Tabone and Mr Winston V. Zahra, signed on behalf of RIDT.
Mr Malezki said: "Our Company has a corporate social responsibility programme whose main objective is to support the Maltese society in various spheres. Within this scenario, Malta Freeport is looking forward to assist the University of Malta in furthering its research and innovation initiatives".
Rector Juanito Camilleri thanked  Malta Freeport Terminals Ltd for understanding the need to support the research activities of the University. "The University of Malta cannot depend solely on government contributions and needs the support of the whole society.  This agreement is an example of how a modern university collaborates with the private industry to support the socio-economic development of a country'" said Professor Camilleri.
Mr Malezki gave an overview on Malta Freeport Terminals' facilities and the maritime scenario and spoke about the private industry's role in supporting the University of Malta and its research projects.
Accompanied by the Dean of Faculty of Engineering Dr John Betts and RIDT CEO Mr Wilfred Kenely, Prof. Camilleri explained RIDT's objectives.
The University delegation was also shown the facilities at the Container Terminals where it viewed the operations and the heavy investment undertaken recently in the facilities particularly on the Quayside Cranes and Yard Cranes. Also present were, Dr Duncan Borg Myatt, Director HR, Health & Safety, Quality; Mr Jason Montebello, Director, Finance & Purchasing and Mr Charlie Rutter, Director,  Engineering  who will be responsible for the research to be undertaken by the University on behalf of Malta  Freeport Terminals.
The Research Innovation and Development Trust was established by the Government of Malta as an integral component of Malta's established policy to bolster investment in research and development on a national level.  One of its main aims is to attract funds from private and corporate bodies to be used to maximise and exploit the research environment at the University of Malta.