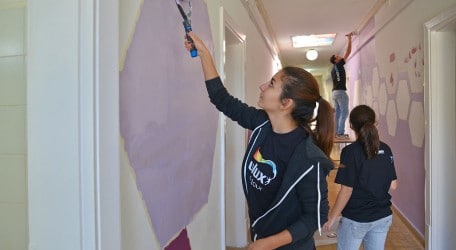 The "Lets Colour Project" originated by Dulux Paints is a worldwide initiative to "add colour to people's lives". As Dulux put it – "We have the ambition to make the world a more colourful place. We believe that making our surroundings more colourful has a huge positive effect on how people live and feel. By adding colour to people's lives both in a physical and metaphorical way we integrate our economic with our social and environmental ambitions".
This project has also reached our shores and this year sees the attempt to kick start this 'lets colour' initiative in Malta. The event is co-ordinated by Vee Gee Bee local distributors of Dulux Paints.
The MCAST Art and Design Institute in Targa Gap Mosta, was chosen as the pioneer for this project by giving an opportunity to the second year students of interior design to liven up their three main school corridors, which have so far always been painted in white.
MCAST took on the project and presented it to their students as their annual assignment.
Assignments have now been completed, and a winning design concept has been chosen by the board. This design is now being brought to life and the corridors have started taking in new colours and the whole project is expected to be finished this week.
While visiting the students 'at work', the Principal of the College expressed his utmost satisfaction for this project and reiterated his support for similar initiatives entered into with the collaboration of the commercial sector. He thanked Vee Gee Bee Ltd, local representatives for Dulux Paints for choosing MCAST for this assignment.
14.02.2013
Proġett imlewwen fl-MCAST
Il-proġett "Let's Colour" ta' Dulux Paints hu inizjattiva dinjija sabiex "iżid il-kulur fil-ħajja tan-nies". Kif jgħidu Dulux, "Aħna għandna l-ambizzjoni li nagħmlu d-dinja aktar imlewna. Aħna nemmnu li jekk inbiddlu l-affarijiet ta' madwarna dan ikollu effett pożittiv fuq kif inħossuna u ngħixu. Billi nżidu l-kulur fil-ħajja tagħna kemm b'mod fiżiku kif ukoll b'mod metaforiku ngħaqqdu l-ambizzjonijiet ekonomiċi ma'  dawk soċjali u ambjentali."
Din is-sena dan il-proġett qed isir f'Malta wkoll u qed issir bl-għajnuna tal- Vee Gee Bee, id- distributuri lokali ta' Dulux Paint.
L-Istitut tal-Arti u d-Disinn fl-MCAST f'Tarġa Gap il-Mosta ġie magħżul bħala l-post ideali biex isir dan il-proġett. L-istudenti tat-tieni sena li qed jistudjaw l-interior design ingħataw l-opportunitå li jsebbħu tliet kurituri fl-iskola li sa issa dejjem kienu miżbugħa bojod.
L-MCAST qed jagħmlu dan il-proġett u dawn ippreżentawh lill-istudenti bħala l-assignment annwali tagħhom.
Issa li huma lesti l-kunċett tad-disinn rebbieħ ntgħażel mill-bord. Dan id-disinn qed jingħata l-ħajja u l-kurituri tal-iskola qed jinżebgħu bil-proġett ikun lest din il-ġimgħa.
Meta żar l-istudenti waqt li kienu ghaddejjin bix-xoghol taghhom, il-Prinċipal tal-Kulleġġ wera s-sodisfazzjon tiegħu għal dan il-proġett u tenna l-appoġġ tieghu ghal inizjattivi simili li jsiru b'kollaborazzjoni mas-settur kummerċjali. Hu rringrazzja lil Vee Gee Bee Ltd u  lir-rappreżentanti ta' Dulux Paints talli għazlu lill-MCAST għal din l-inizjattiva.