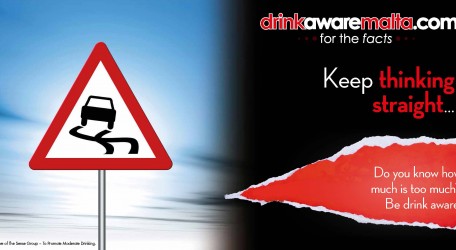 TSG re-launches drink-drive campaign for Christmas
The message of The Sense Group's (TSG) www.drinkawaremalta.com campaign is to "keep thinking straight" especially during the Christmas season. As the end-of-year festive season approaches, the temptation to throw caution to the wind for the sake of celebration grows stronger. For those who are planning a few late nights out, it makes sense to arrange a designated driver, take a taxi back home or, even better, book one in advance.
Since 1997, TSG has made it a yearly appointment to send out a strong message to help the public have a safe and enjoyable Christmas period. "The track record over the past years has been a positive one. We trust the public, including friends and relatives of drivers, are appreciating and understanding our social and sensible messages. The hard fact is that one can only ignore our messages at the risk of suffering loss of life or a permanent disability, apart from financial loss. One surely wants to remember this Christmas and the New Year's festivities for other, happy and more positive, reasons," said TSG's Director General Ray Grech.
"Although the vast majority of people drink responsibly, we must reinforce the responsible drinking message. It matters most at this time of year when the chances of excessive consumption increase considerably," said Mr Grech.
Founded by producers and importers of alcoholic beverages, The Sense Group's main objective is that of reducing alcohol related harm by promoting moderate drinking through numerous, targeted initiatives that are recognised as being one of the best examples of Corporate Social Responsibility in Malta. Amongst these are regular campaigns against drinking and driving, underage drinking and binge drinking. www.drinkawaremalta.com