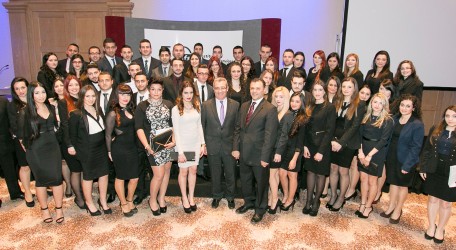 The Institute of Financial Services-Malta (ifs Malta) awarded 268 certificates to students who successfully completed studies in 2013 during a graduation ceremony held at St Julians. The Minister for Education and Employment Evarist Bartolo and ifs Malta President Simon Grech congratulated all ifs Malta graduates and those dedicated individuals who supported their efforts.
In his concluding address, Minister Bartolo emphasised the importance of business ethics in the sustainability of the financial services sector as one of the main pillars of the Maltese economy and the importance of education in securing quality employment. Courses offered by ifs Malta contribute to the ongoing professional development of the financial services sector in Malta and it is, therefore, beneficial for financial services organisations to supportand encourage employees to undertake such educational courses.
ifs Malta President Simon Grech said: "Continuous professional development is very much on the agenda internationally. This works hand in hand with ifs Malta's commitment towards providing quality and ongoing professional education to financial services practitioners as the industry requires theory, skills and competences for the successful future we all seek."
"As is often said, learning is an ongoing journey and never a final destination. We therefore heartily encourage all graduates to remain open for every possible opportunity to learn new skills, be it through academic, vocational qualifications or life experience," said Mr Grech.
Certified qualifications offered by ifs Malta include 20 distinct areas ranging from short term courses in fund administration, credit control and risk management to the more traditional Certificate for Financial Advisers, a higher diploma in financial services, two Masters programmes and a Postgraduate qualification for wealth Management specialists. A number of courses are also being held in conjunction with the University of Manchester and ifs UK.
ifs Malta is licensed to operate as a Further and Higher education institution to provide the highest level of tuition, and examine and award internationally recognised qualifications.
The event, compered by ifs Malta Education Director Mr Kenneth Micallef, also included the presentation of special awards in recognition of the 2013 cohort's highest achievers.
More information about ifs Malta's courses is available online at www.ifsmalta.org