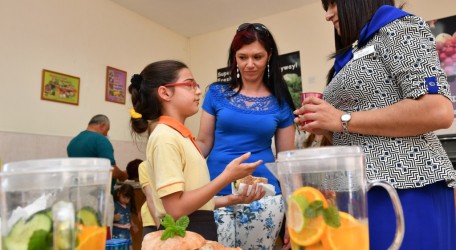 Amidst the increasing link of food consumption with climate impact becoming evident, the HSBC Water Programme – Catch the Drop has joined hands with Nature Trust Malta in supporting an EU project, We Eat Responsibly. We Eat Responsibly is being run in nine European countries with a theme of responsible food consumption. This is the first time that the growing influence of HSBC Water Programme – Catch the Drop in changing attitudes toward conservation has led to a tie-up with a similar programme with another organisation.
The United Nations Environment Programme (UNEP)'s international panel of sustainable resource management has previously reported that current dietary habits are unsustainable and are playing a role in climate change. The food we grow has an environmental impact in terms of use of natural resources. Water is an essential resource and needs to be factored in every decision for food production. The water conservation campaign is financing the projects of four schools who are taking steps to reengineer food production and consumption under the Nature Trust programme.
The supported schools are Dingli Primary School: where a new water tank will now collect rain water and irrigate crops; Birkirkara Middle School: two rainwater collecting tanks will be used for irrigation; St Michael School in Sta Venera: where a new efficient irrigation system will be installed in the school's garden; and Birżebbuġa Primary School; which will be helped to collect rainwater to irrigate vegetables being planted by pupils.
We Eat Responsibly was launched in June 2015 with the active participation of 14 schools. Among the participants, four schools were referred to the support of HSBC Water Programme – Catch the Drop as their proposals addressed the important element of water conservation in the food cycle.