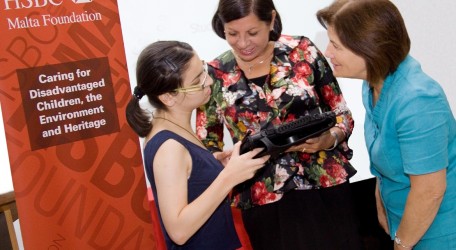 Pictured: Hon Minister Dolores Christina (centre) and Ms Catherine Gonzi (right) presenting the latest in communicative assistance technology at the Access to Communication and Technology Unit
Children receiving support from the Access to Communication and Technology Unit (ACTU) are to benefit from the latest Assistive Technology, offering new solutions for children with physical, communication and learning difficulties.
"The'Motion Tablet CL900', acquired through support from the HSBC Malta Foundation, is a sophisticated Assistive Technology, capable of running the very best communicational tools. It is light, sturdy, and very powerful, allowing our team of professionals the mobility and flexibility they require to assist children in schools as well as their homes," explained George Borg, Director of Student Services.
Designed to cater for all ages and abilities, as well as different methods of access, the Motion Tablet CL900 includes two leading versions of communication software packages. This Windows 7 based device includes a speech engine with a wide range of voices in many languages, including Maltese. It may also be mounted onto any wheelchair, walker or bed frame and can run for a whole day on a single charge for enhanced mobility.
"Communication is central to our relationships, who we are, and how we learn." said Hon Dolores Christina, Minister of Education and Employment. "HSBC Malta Foundation's support for ACTU is a clear example of Corporate Sustainability in practice by endorsing services that enhance the wellbeing of so many children and families."
ACTU falls under the Directorate for Educational Services, and comprises a core team of Occupational Therapists, Speech and Language Therapists, and Learning Support Assistants with specialised training to recommend and implement augmentative communication strategies.
"Children and students facing educational or communication challenges need to be supported with the help of new technology so as to address these challenges as early on and as effectively as possible," said Catherine Gonzi, Chairperson of the HSBC Malta Foundation.