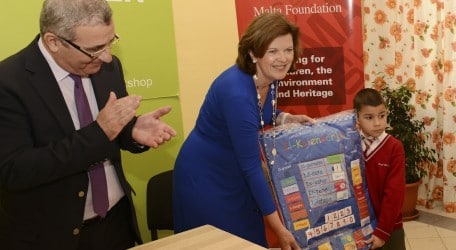 Pictured above: Minister Evarist Bartolo and HSBC Malta Foundation Sarah Watkinson during the launch of the project at Marsa Primary School. 
Year one students in all state schools across Malta and Gozo are to benefit from multisensory fabric calendars to help make learning basic Maltese vocabulary more fun and engaging. The project is being carried out by the Kunsill Nazzjonali tal-Ilsien Malti (National Council for Maltese Language) and the Education Officers for Maltese with support from the HSBC Malta Foundation.
This multisensory calendar project was launched at MarsaPrimary School in the presence of the Minister for Education and Employment Evarist Bartolo.
"This initiative recognises the crucial importance of providing children with quality exposure to Maltese from an early age," said Minister Evarist Bartolo. "The calendars have been well thought out and designed to make learning a fun daily activity to be enjoyed in classrooms and school libraries across Malta and Gozo."
The Executive Director of the Kunsill Nazzjonali tal-Ilsien Malti, Thomas Pace said: "HSBC Malta Foundation is providing valuable support for this project as well as assistance in strengthening our activities in Malta and Gozo. The calendars are colourful, engaging, very well made using sturdy and washable fabric material, and designed to appeal to children and promote learning through play."
HSBC's Malta Foundation Deputy Chairperson, Sarah Watkinson, said "This intelligent project will reach out to some 140 classes for children between 4 to 5 years of age and to school libraries, offering an innovative tool for learning the months, weeks, numbers, and seasons, as well as Maltese expressions for describing weather conditions."
The calendars are to be distributed to State Schools by the Education Officers for Maltese at the Department of Curriculum Management in collaboration with the Kunsill Nazzjonali tal-Ilsien Malti.