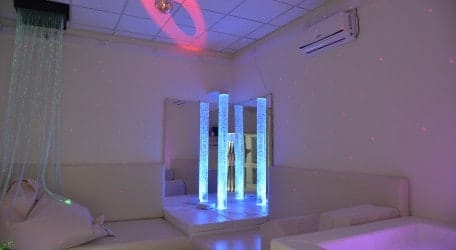 Young students of Gozo College Sannat Special Unit now have a new light-filled world to escape to when the one around them becomes confusing with sensory overload.
A new state-of-the-art Sensory Room is now open for the 12 full-time students of the Special Unit but also for another 30 students between the ages of eight and 15 from other Gozo schools to benefit from the specialised service and staff.
Individuals with conditions such as autism and other intellectual disabilities at times find themselves disoriented and frustrated due to hyper- or hypo-sensitivity, resulting in behaviours of concern and stunting of intellectual growth.
Thanks to the support of HSBC Malta Foundation, the School was able to procure specialised equipment that will offer controlled sensory stimulation to students and bridge the barriers that disrupt their functioning.
For these students, a sensory room is a refuge where they can resume the learning process using equipment such as projectors that disperse light patterns throughout the room, bubble lamps, spotlights, mirror balls, and so on, especially when coupled with multi-sensory therapies.
The Foundation, whose support to the Special Unit dates back to 2001, financed multi-sensory equipment worth €11,350.
"For some 15 years HSBC has played an important role in helping the community of Sannat Primary create a positive and stimulating environment for the amazing young people they support and their fantastic teachers who demonstrate incredible passion, dedication and professionalism. We are proud to be continuing this partnership," said HSBC Malta CEO Andrew Beane.
Head of Gozo College Sannat Primary & Special Unit Pauline Grech said: "HSBC's support since 2001 means a world to the students of the Special Unit. On behalf of these students and their families, I wish to thank HSBC from the bottom of my heart for supporting our dream to bring innovative sensory therapies to those in need in Gozo."
Apart from the equipment, the Foundation also financed two projectors for the Interactive Projection Area of the Sensory Room. Previously, support from the HSBC Malta Foundation resulted in installation of specialised gym facilities, and the Maltese islands' first Optimusic music device, among other.