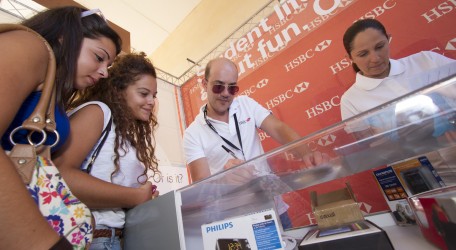 HSBC Malta has announced the launch of its 2014 Yes for Students campaign which will run till 31st October 2014. Full-time students attending the higher forms of Secondary Schools, MCAST, Sixth Form, University or any other established post-secondary and tertiary academic institution can enjoy tailor made services through the Bank's Yes 4 Students 13+, 16+ and 18+ packages.
Benefits include free international debit cards, attractive interest rates on loans, preferential foreign exchange rates for Maltese students studying abroad and for foreign students studying in Malta, as well as free mobile and internet banking among others.
"Student life can be fun but it is also an important stepping stone to the professional world. At HSBC Malta, we are committed to providing students with an enriched banking experience that not only offers them a great sense of fun and reward, but also prepares them for their long-term personal financial management," said Paul Steel, Head of Retail Banking and Wealth Management at HSBC Malta.
This year, HSBC Malta has again partnered with SCAN Malta to offer gifts that compliment HSBC Yes 4 Students financial packages. All students who open an HSBC Yes 4 Student account before 31st October can choose one of the following instant gifts – 4GB Pen Drive, Dynamode Headphones or Dicota Mini Optical Mouse. Students who direct their stipends into YES 4 account are also eligible for a choice of gift options, some of which are completely free of their charge while others are offered at highly discounted rates.
Free gift options include a Sony Digital voice recorder, Philips Pro hair clipper, Philips hair dryer, Sennheiser Professional headphones and Philips digital tuning clock radio. Special offers at highly discounted rates include a Fuji digital photo camera 14MP for €25, a 1TB USB3.0 portable external hard drive for €35, an Agfa video action camera for €45, a Samsung / Asus 7" Android tablet for €129 or a Toshiba 32" LED HDTV for €199.
Students may apply for an HSBC Student Account online at www.hsbc.com.mt/yes4, where the full range of gifts is also on display. This year, online applicants will also receive an additional €38 voucher from SCAN or 16GB pen drive.
More information about HSBC's Yes 4 Students packages can be obtained by visiting www.hsbc.com.mt/yes4, by calling Customer Service on 2380 2380, or by visiting any HSBC branch in Malta and Gozo.