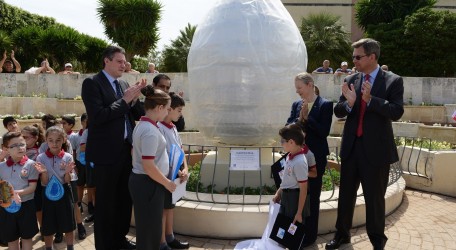 "A reminder that water is our most precious resource"                                          
Pictured above: Minister Konrad Mizzi, HSBC CEO Mark Watkinson, and Paola Mayor Roderick Spiteri unveiling the new monument with Paola Primary School students 
A new monument to promote water conservation was unveiled in the Paul Boffa public gardens adjacent to St George Preca College, Primary A and B at Paola. Commissioned as part of HSBC's Water Programme, the Catch the Drop campaign implemented in Malta with support from the Ministry for Energy and Health is being celebrated by a monument designed by Maltese artist Joseph Barbara. The monument is made out of recycled plastic water bottles, some of which were collected by the school students themselves.
The Minister for Energy and Health Dr Konrad Mizzi, HSBC Malta CEO Mark Watkinson and Paola Mayor Roderick Spiteri were greeted by students who carried out a range of activities on the day to mark the occasion. Students sang a song about water conservation and organised a leaflet distribution exercise to raise awareness about water sustainability in their locality.
Minister Mizzi encouraged the students to keep up their exemplary participation in 'Catch the Drop'. "This monument symbolises our increasing awareness of water about the crucial importance of achieving water sustainability within our communities. It is also a way of thanking and encouraging all those volunteering including HSBC staff volunteers, their time and energy to champion water sustainability for a better, more environmentally sustainable, future."
St George Preca Primary A students are highly active within the 'Catch the Drop' Campaign. Their voluntary contributions include meetings with the EkoSkola committee and HSBC staff volunteers, presentations carried out at their school, participation in awareness raising activities to mark World Water Day 2014 (22 March), participation in the EkoSkola Young People Environmental Summit, and the submission of successful proposals under the 'Catch the Drop' school outreach programme and the community outreach programme.
"This monument offers a visual reminder that water is our most precious resource," said HSBC Malta CEO Mark Watkinson. "The average Maltese uses 135 litres of water per day, about a quarter of which is flushed down the drains. This figure is among the insightful information that volunteering students are distributing to Paola homes to help raise awareness and highlight how all of us can make a marked difference and conserve water."
The nation-wide three-year initiative by HSBC Malta called "Catch the Drop" is incorporating innovative and pro-active approaches to raise awareness about water conservation and stimulate a positive change towards sustainable fresh water use in Malta and Gozo.
Paola Mayor Roderick Spiteri thanked HSBC Malta and the Ministry for Energy and Health for their commitments and ongoing support. Mr Spiteri emphasised the importance of raising awareness among younger generations so that we become ever more environmentally sustainable in our day-to-day life.