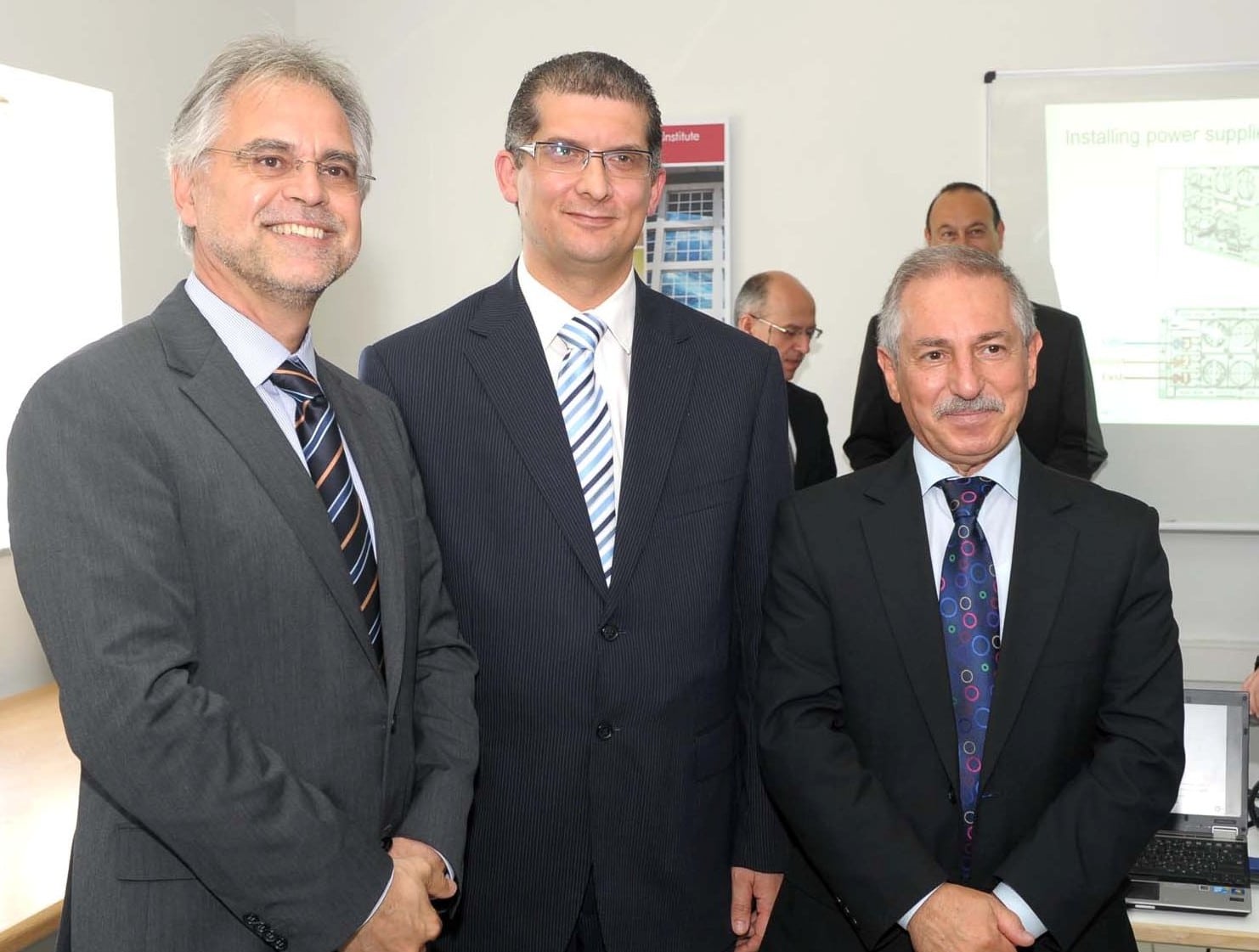 Pictured above: Herbert Rastbichler, HP Vice President and Managing Director for CEE; The Hon. Charlo' Bonnici, Parliamentary Assistant within the Ministry for Infrastructure, Transport and Communications (MITC), and Prof. Maurice Grech, MCAST Principal and CEO
The HP Education Centre, the first one in Malta, was officially  opened last week at the Malta College of Arts, Science and Technology (MCAST) by The Hon. Charlo' Bonnici, Parliamentary Assistant within the Ministry for Infrastructure, Transport and Communications .  The new centre will provide students with more in-depth professional expertise in a number of mainstream IT and related technologies.
Hon. Bonnici said, "The root of our future competitiveness lies in our educational system; in our classrooms and lecture halls. We have to prepare for tomorrow's human capital needs.  The scope of today's inauguration is the unveiling of a Centre that delivers the opportunity for students to build a strong foundation on which to realise their aspirations."
The unique IT education courses will focus on blade technology, networking, virtualisation and cloud, helping students to acquire practical knowledge and skills for employment, where these technologies are used.  These technologies are those that power the 'infrastructure' products and services provided by the ICT industry.  These products and services are extremely important, they are the drivers behind a wide range of online services, including movies-on-demand, virtual operating theatres or flexible and dynamic business tools and services through the cloud.
In order to guarantee the success of this innovative educational project, the HP Education Centre has been equipped with modern HP technologies, such as HP Blade System servers, a wide range of HP networking hardware, HP MSA Storage and powerful HP desktop PCs.  The hardware was delivered and installed by an HP Partner in Malta, Systec Ltd.
"HP's collaboration with MCAST allows us to share our knowledge and establish the groundwork for young professionals who in a few years time will be building Malta's IT infrastructure", says Herbert Rastbichler, HP Vice President and Managing Director Central and Eastern Europe.
The HP Education Centre at MCAST will be receiving the first group of students in Autumn 2012.  Specific IT courses will start in Virtualisation, Blade and Networking technologies and are being created specifically for the Maltese students.
"Our ongoing collaborations with the industry and the Government, and the College's investment in Continued Professional Development for all staff ensure that our courses continue to provide students with the necessary qualifications and experiences to achieve successful careers in the industry within a short period of time," said Prof. Maurice Grech, MCAST Principal and CEO, "the HP Education Centre presents students with another opportunity to enhance their practical competencies using the latest industry-standard high end technologies. Through such experience, our graduates will be able to combine theory and practice to their place of work.  The practical context will boost creativity and innovation – the driving forces of any forward-looking, successful economy."
Since 2006, 1,345 students graduated with Diplomas and Degrees from the MCAST Institute of Information and Communication Technology, where the HP Education Centre is being established. The number of graduates during the last academic year, 358, represents a 208% increase over the same figure five years earlier.
The HP Education Centre at MCAST is the first one to be opened inMaltawithin the framework of the HP Institute of Technology (HPIT) programme, which aims at improving the training of world-class IT professionals and giving both students and professors access to modern HP technologies.
The programme foresees free training for MCAST lecturers on Blade Administration, Networking Technologies, Virtualisation, as well as introduction to Cloud/Storage computing by a team of HP experts.
In December 2010, HP, The Malta Information Technology Agency (MITA), the University of Maltaand MCAST signed the Memoranda of Understanding to create two educational centres inMalta.  The aim of this strategic collaboration is to provide students studying ICT with access to the latest information technologies and knowledge databases.
MCAST is one of the 24 leading European universities that have joined the HPIT programme.  Currently there are centres operating successfully inRussia,Bulgaria,Polandand theUkraine, and now HP is further developing this programme in Western Europe, initiating withMalta.