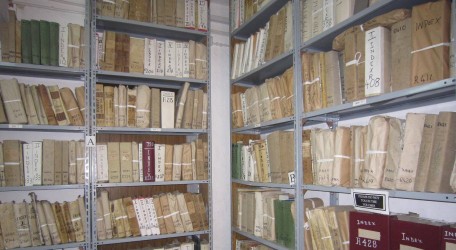 Several GasanMamo clients were recently invited to the Notarial archives to experience some of our Maltese heritage through Gasanmamo's recent restoration project. The three year project aims at restoring several volumes of deeds and documents which have deteriorated over the years having been stored in damp spaces and other inadequate places where they also suffered damage from bomb raids and other misfortunes.
"GasanMamo is very proud to be part of the restoration of national documents at the Notarial Archives, " said Julian J Mamo, Managing Director at GasanMamo. "We wanted to share this experience with our clients and we really enjoyed the tour within the premises which gave us an insight into a very interesting part of  our history. We constantly try to give our customers added value and it is very rewarding for us to see our clients enjoying our national heritage which we proudly help to preserve."
"The tour proved to be a great success since it generated a lot of interest in the archives," said Joan Abela, Founding Member of the Notarial Archives Resources Council and an active volunteer at the Notarial Archives. "Such a response encourages us to continue with this sterling work and helps us communicate the message on the importance of conservation techniques to preserve documents for future generations and society's collective memory."
The Notarial Archives, serve as a repository for over 20,000 registers containing notarial records holding some of the oldest  records that showcase the fabric of life in Malta during some of the most interesting and turbulent times in our history. Some of the holdings at the Notarial Archives date back to at least the fifteenth century and deserve conservation because they are an incredible link with the past and provide valuable information about Maltese society throughout the last 500 years. Set up by Grand Master Lascaris in 1640, the Notarial Archives date back to the times of the Order of the Knights of St John yet the oldest notarial volume preserved there is the one authored by Notary Paolo Bonello which dates back to 1467.  Notary Salvatore Ciantar is listed as the first Archivist.