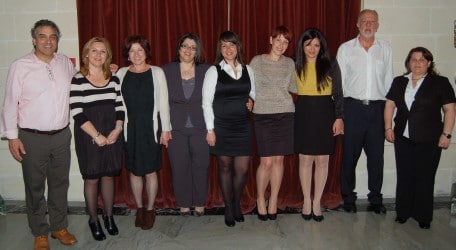 The Institute of Family Therapy-Malta (IFT-Malta) recently celebrated the graduation of the first group of students who followed studies in Family Therapy with the Institute. The students received their Post-Graduate Diploma in Systemic Family Psychotherapy after following a two-year period of training from 2010-2012. The students include Mariella Zerafa, Mandy Vella, Geraldine Galea, Zvetlana Cassar, Stephanie Camilleri Galea and Joseph Antoncich.
The evening which was held at Corinthia Palace Hotel & Spa, Attard, was introduced by a short speech from Dr Charlie Azzopardi who is the founder and Chairperson of IFT-Malta as well as being one of the tutors. Dr Azzopardi described how IFT-Malta was born, the process of its development and what it has achieved today. He thanked the other directors/tutors and external tutors for their collaboration and contributions over the years and thanked also the students who placed so much trust in the capabilities of the Institute to train them to reach this important achievement.
The students made individual presentations of the work carried out for their thesis which included research in varied family-related aspects. After the presentation of the diplomas, IFT-Malta directors, graduands and their families closed the evening with a dinner.
IFT-Malta has recently welcomed its fourth group of students to train for their
Post-Graduate Diploma in Systemic Family Psychotherapy and soon will be starting ProfessionalTraining in Systemic Psychotherapy.