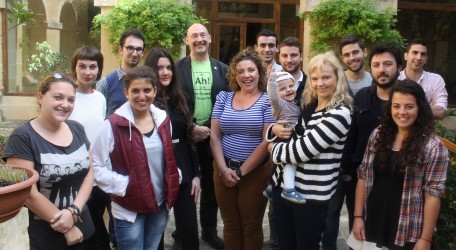 Manuele Biazzo, Norbert Bonnici, James Patrick Cook, Josef Grech, Reuben Ferrante, Ira Melkoyan, Michelle Muscat, Maria Stella Portelli and Rubeeya Soratroi are the nine national finalists of FameLab Malta. They will compete infront of a live audience during the final presentation  to be held at the Valletta Campus Auditorium, (Old University Building), St Paul's Street, Valletta, on Thursday 15th May at 7.30pm. The general public, in particular students and science enthusiasts, is invited to attend.  Entrance is free.
The finalists will present 3-minute  entertaining talks that everyone can enjoy.  The best science communicator will represent Malta at the UK Cheltenham Science Festival next month.
The selected topics of the presentations are diverse from the science behind the Sleeping Beauty and cardboard bicycles, to embedded systems, magic pill, and humans as colonies of microorganisms.
The winner will be chosen by a panel of judges consisting of last year's FameLab Malta winner and lecturer at the University's Centre for Biomedical Cybernetics Dr Owen Falzon, lecturer at the University's Department Systems and Control Engineering Dr Kenneth Scerri and lecturer at the University's Department of Biology Dr Sandro Lanfranco.
The finalists were prepared by Quentin Cooper, an expert in media and communication skills, during a weekend workshop in Gozo. A popular voice of science in the UK, Quentin Cooper writes and presents hundreds of programmes including over a decade fronting Britain's most listened to science shows, the live weekly Material World on BBC Radio 4. He is the regular host and masterclass tutor for the UK and international finals of FameLab.
The 2nd edition of FameLab Malta is being organised by The British Council, the National Student Travel Foundation (NSTF) and the Research, Innovation and Development Trust (RIDT) of the University of Malta, who have teamed up with FameLab, the biggest international search for new voices of science and engineering, to give enthusiastic early career scientists and researchers in Malta the chance to demonstrate their skills in this event.
The competition is also supported by the Parliamentary Secretariat for Research, Innovation, Youth and Sport, Microsoft, APS Bank, Vodafone, and Stage Malta.
The FameLab Malta initiative is in line with the University's Trust, RIDT, highlighting the value and usefulness of science and research. RIDT drives to support research activity and to seek additional funds from Maltese and international sources to expand the University's research studies.
This is the second time that Malta is participating in FameLab, an international competition spanning over 20 countries across Europe, Asia, Africa and the United States in the search for the next top science communicator.
Past winners of FameLab have gone on to travel the globe, perform in festivals and feature on national TV and radio, and many combine public-facing activities with on-going research. Generally all finalists become part of a global network of science communicators.
FameLab Malta finals will be hosted by Nathan Brimmer and entertainment will be provided by Keith Anthony from Follow Fish and Chasing Pandora. No advance booking of seats is required. For more information about FameLab Malta one can contact [email protected]