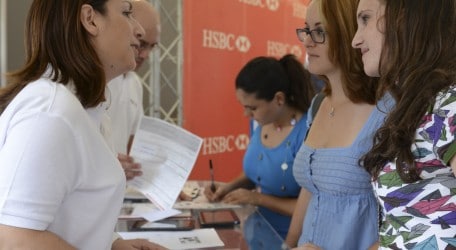 HSBC Malta's YES 4 Students stand at University of Malta is heading a recruitment drive with job prospects for University graduates. This is in addition to its usual role of providing information about HSBC Malta's special offers and expert advice on financial services for students.
The stand is also acting as a hub of information about HSBC Malta corporate sustainability activities in order to raise awareness and promote the diverse range of environmental and educational initiatives being carried out by HSBC Malta Foundation, the bank's corporate sustainability arm.
"We are bringing more value and interest to Yes 4 Students stand as a recruitment platform offering opportunities for graduates to join HSBC Malta's dynamic team," said Brian Tortell, HSBC Malta's Head of Marketing. "In addition to financial guidance and special offers to students, another novelty this year is that of HSBC Malta Water Programme volunteers  promoting awareness about HSBC Malta's corporate sustainability initiatives. These include the recently launched €500,000 'Catch the Drop' water conservation campaign."
HSBC Malta, in partnership with SCAN Malta, offers a vast range of gifts to complement the HSBC Yes 4 Students financial packages. All students who open an HSBC Yes 4 Student account before 31st October 2013 receive a 4GB USB 2.0 pendrive, while students who direct their stipends into a YES 4 account are eligible for a variety of gift options, some completely free.
Free gift options include a case for tablets, a mobile phone bluetooth headset, Sennheiser headphones, iPod/iPhone/iPad speakers, and a laptop cooler stand. Special offers at highly discounted rates include a Dual Core 7" Android 4.1 Tablet for €95, a 500GB mini External hard drive for €30, an iPad keyboard for €70, an eBook reader for €60, and a Fuji Camera (14MP/x24 Opt) for €120. Students who apply for an account via internet will receive a USB universal battery charger for smartphones.
More information from www.hsbc.com.mt/Yes2013, Customer Service on 2380 2380, or any HSBC branch in Malta.