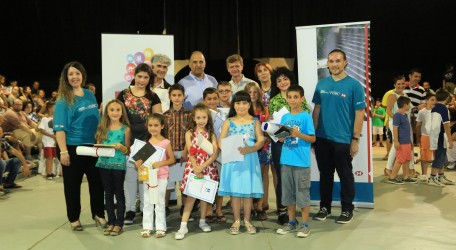 Pictured above : Young winners of the Catch the Drop Art Competition together with (from left) HSBC representative Noelita Ellul Scerri, artist Al Valenti, Expo Events Sales Co-ordinator Gunther Micallef Decesare, Glenn Bugeja, Anna Maria Gilson, and HSBC representative Daniel Grech Avellino
Awareness about water conservation is on the increase especially among primary   and   secondary students.  This  is  evidenced  by  the  strong participation  of  963  pupils  who  took part in a children's drawing and painting  competition  themed  on water shortage in Malta organised by the HSBC  Water Programme – Catch the Drop CampaigThese submissions were exhibited in the ArtZone at Il-Fiera l-Kbira at Montekristo Estates. The art exhibition was organised as part of the Catch the Drop campaign being implemented   in   Malta by the Ministry for Energy and Health, in collaboration with HSBC Water Programme.
Pupils aged 5 to 14 years from various primary and secondary schools were offered the opportunity of having their work exhibited during Il-Fiera l-Kbira.. The Catch the Drop art competition attracted a strong participation making it one of the largest children's exhibitions ever held in Malta.
The students were invited to highlight water shortage in Malta and to show ways on how to prevent water shortage, what brings about water shortage, and why is water so important.
Judged by a panel of artist professionals, a selection was made of the best four entries in each of the three categories.  The winners of:
Category A  (5-7 years) are Luca Saliba (De La Salle), Alessia Finocchiaro (Sacred Heart), Anthea Camilleri (St Nicholas College – Baħrija Primary School), Emma Vella (Sacred Heart).
Category  B  (8-10 years)  are Alana Fava (St Margaret College – Zabbar Primary A), Aimee Grech Bonnici (Chiswick House School), Loryana Mallia (St Benedict College – Mqabba Primary School), Matthew Xerri (St Edwards).
Category C (11-13 years) are Mariah Amber Busuttil (St Thomas Moore College – Girls Secondary School Santa Lucija), Gabriel Bonnici (De La Salle), Matthias Bugeja (De La Salle), Alexia Cortis (St Ignatius College – Handaq Secondary School).
During the prize-giving ceremony, Mr Glenn Bugeja, HSBC Water Programme Coordinator and Ms Anna Maria Gilson, Service Manager Projects & Initiatives Section, Directorate for Educational Services, presented the prizes for the best creative works. All participants were presented with a certificate of participation.
HSBC Water Programme Coordinator Glenn Bugeja said : "The Catch  the  Drop  educational  campaign,  has  been  designed  to generate awareness  among  school  children  on  the  issue of water shortage while encouraging better use of water for life.  The art competition offered the pupils   an  opportunity  to  develop  their  creativity,  appreciate  the importance  of  natural water as well as offer  solutions to environmental problems."
At Il-Fiera l-Kbira, HSBC Bank Malta exhibited an information stand with 12 posters in connection with HSBC's Water Programme and Catch the Drop campaign. Various water projects are being organised throughout a strategic 3-year campaign in Malta which is funded by HSBC Group and supported by Ministry for Energy and Health. The programme encourages positive change towards the use of sustainable fresh water use in Malta.