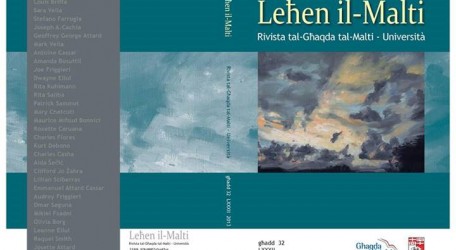 The Għaqda tal-Malti – Università would like to announce the book launch of its official publication, Leħen il-Malti (Ed. Emanuel Psaila). This is the 32nd issue since its  dawn, back in 1931, the year the Għaqda was founded.
The book launch is going to take place during the National Book Festival at Sir Temi Zammit Hall (MCC) in Valletta on Sunday 17 November from 6pm to 8pm. The contributors, a number of which will be present at the lauch are: Ġorġ Borg, Sergio Grech, Louis Briffa, Sara Vella, Stefano Farrugia, Joseph A. Cachia, Geodfrey George Attard, Mark Vella, Antoine Cassar, Amanda Busuttil, Joe Friggieri, Dwayne Ellul, Rita Kuhlmann, Rita Saliba, Patrick Sammut, Mary Chetcuti, Maurice Mifsud Bonnici, Roxette Caruana, Charles Flores, Kurt Debono, Charles Casha, Aida Secic, Clifford Jo Żahra, Lilian Sciberras, Emmanuel Attard Cassar, Audrey Friggieri, Omar Seguna, Mikiel Fsadni, Olivia Borg, Leanne Ellul, Raquel Smith, Josette Attard, Charlo Camilleri and Charles Coleiro.
During this launch you will have the privilege to listen to musical pieces and selected readings from some of the works. Afterwards, we urge the general public to stay for a drink or two. During the launch, the call for contributions to the next publication will be announced.
The general public is encouraged to attend for this launch of a publication draws in both academics and students. Registered members of the Għaqda can also pick their free copy.
A number or excerpts are being uploaded everyday on the publication's page: www.facebook.com/lehenilmalti whilst more information can be found on www.facebook.com/events/364816026986288https://www.facebook.com/events/364816026986288/?fref=ts