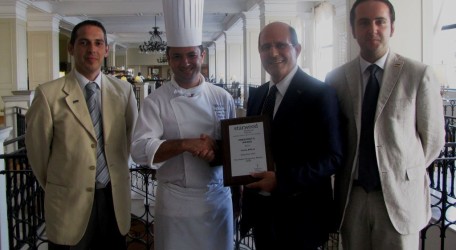 Pictured above: Jason Degiorgio (Director of Food and Beverage), James Mifsud (Executive Chef), Michael Kamsky (General Manager) and Jonathan Borg (Director of Operations) 
Mr James Mifsud, Executive Chef at The Westin Dragonara Resort, has been bestowed with the prestigious President's award within Starwood Hotels and Resorts.  The president's Award was presented to James Mifsud by General Manager, Mr Michael Kamsky on behalf of Mr Roland Vos, President of Starwood Hotels and Resorts for Europe, Africa and Middle East Division, accompanied by Director of Food and Beverage Jason Degiorgio and Director of Operations Jonathan Borg.
The criteria of this award is based on a number of key areas; mainly the focus on quality of guest experience, focus on employee satisfaction, morale and staff development and general contributions to hotel and staff activities. The criteria also include focus on departmental operational costs and safety conditions.
Mr Mifsud joined The Westin Dragonara in July 2010. During the past two years James has shown exceptional leadership skills. The great teamwork portrayed by the kitchen brigade resulted in significant improvement in the food quality and The Westin Dragonara Resort enhanced its reputation in the culinary field.  In his capacity as Executive Chef, James has ensured that as a Starwood property, The Westin Dragonara Resort is fully compliant with all food related safety and security procedures.  In addition, he also sits on Starwood's Food and Beverage council where the idea of introducing a new kids menu was generated, offering a range of dishes that are attractive and healthy.  The menu offers different options catering for different age groups.
Throughout 2011 James also succeeded in containing the food cost without jeopardising the quality of the product. Consequently The Westin Dragonara ranked first in the Deloitte benchmarking report carried out across the local 5 star hotels with regards to the total food & beverage cost for 2011.
Mr Michael Kamsky shared words of praise to James Mifsud during a gathering between Heads of Departments who joined to congratulate and celebrate with James this prestigious award.
Further information about The Westin Dragonara Resort can be found on www.westindragonaramalta.com