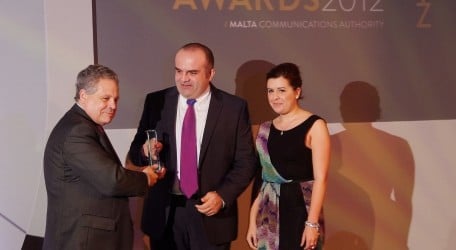 Pictured above: Philip Micallef, Chariman MCA, Charlo Callus, vouchercloud Product Manager and Rosanne Magri, vouchercloud Executive
vouchercloud, a discount voucher online platform has won a very prestigious award for the Most Innovative Solution of the year at the eBusiness awards 2012, organised by the Malta Communications Authority.  vouchercloud was brought to Malta by Vodafone. It is the first ever downloadable discount voucher application in Malta and gives consumers the opportunity to find shopping bargains in a very innovative way.
"The award reflects the hard work that the vouchercloud team have put into this initiative, an application that is set to revolutionise the Maltese shopping habits," said Ivan Zammit, Enterprise Service Manager from the vouchercloud team. "Thousands of customers are already benefiting from special offers and discounts from top brands on the market. vouchercloud is replacing traditional paper discount vouchers to a state-of-the-art experience using the latest technology.  We encourage everyone to download the app for their smartphone and start benefiting today from the amazing discounts offered."
The eBusiness awards are aimed at acknowledging unique and innovative business initiatives that combine web-based technologies with entrepreneurship. The awards also promote innovative initiatives in the eBusiness domain and spread awareness about the potential of web-based technologies to drive economic growth and social development. The awards are intended to give prominence and recognise the most innovative initiatives in the domain of eBusiness and spread awareness about the role of web-based technologies in increasing competitiveness of local enterprise.
"vouchercloud provide consumers with the best Maltese digital discount vouchers directly to their Smartphone screen, guiding them to the shop's front door using the Smartphone's digital mapping application and redeeming the voucher in an eco-friendly way, doing away with the need to print paper vouchers. vouchercloud was launched locally in July 2012. The service offers a significant number of special deals across various categories including restaurants, food to go, fashion shops and health and beauty outlets. Vouchercloud can also be used to hunt for bargains while on holiday abroad" said Charlo Callus vouchercloud product manager.
In just 4 months, more than 10,000 Maltese consumers have already downloaded and registered on the vouchercloud platform. vouchercloud already boasts more than 100 discount vouchers from more than 50 businesses. vouchercloud can be used by subscribers of all local mobile networks and tourists alike. vouchercloud can be  downloaded for free from App Store, Google Play and Blackberry App World.