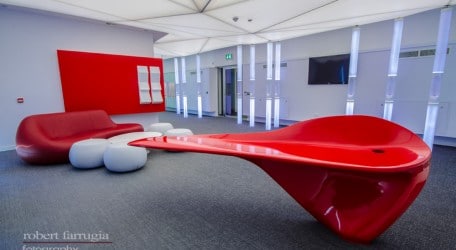 Vodafone has started the New Year with a new way of work life. Vodafone's employees have moved to their new fun and environmental friendly head office at the SkyParks Business Centre just in time to start the year afresh. The transition has been completed in three different phases, with the first one starting back in December. The group of Vodafone employees who were the first to move included Vodafone's CEO Balesh Sharma.
Over the last couple of years, Vodafone has invested a lot in instiling a culture of change so that their employees would be able to leave their previous offices in Birkirkara one day and work as usual from SkyParks Business Centre the next day, particularly due to the fact that Vodafone's new Head Offices introduced a number of innovative concepts including a paperless office philosophy and a hot-desking policy.
"Over the last couple of years multiple projects and processes were undertaken to make the move a smooth one," said Antoinette Camilleri, Property Manger at Vodafone Malta. "We have been gearing up for the move for the past two years, scanning, recycling paper in different departments and archiving important legal documents that have to be retained. We have constantly promoted a culture of change which has produced positive results. Team members are embracing this change and it's really great to see that our people are happy with the smooth transition to the new offices and with their new working environment."
The SkyParks Business Centre offers Vodafone employees an open plan environment where they are working in a brand new corporate setting that enhances productivity, teamwork and improves organisational communication. The furniture was selected with great care and custom-made furniture was specifically designed for some areas, keeping in mind factors such as space, comfort, durability, maintenance required and if it is easy to clean or not. Customers were also kept in mind with different meeting room designs including areas for lounge and business meetings and for casual meetings, state of the art multimedia facilities and handset displays. The A+ equipment, with the choice of lighting and light sensors incorporated to reduce utilities usage also played an important role in ensuring efficiency and sustainability. Technology was also a big issue in the design and Vodafone made sure that they have a wireless environment with no desk phones and wifi services available in the whole office including the terrace.