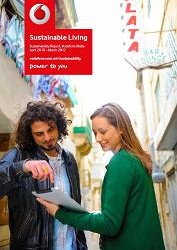 Vodafone Malta has published its fourth Sustainability report, which for the second time running has been audited by PwC Malta. The report, covering the period between April 2010 and March 2012, focuses on how Vodafone acts in a sustainable manner both internally and externally with its customers and main stakeholders, whilst making every effort to empower sustainable living in a way that will ultimately benefit the community it works in.
Balesh Sharma, CEO of Vodafone Malta commented on the company's sustainability policy and stated that, "Vodafone is a responsible business and this is not reflected only in what we achieve but in the manner we achieve it. We try and make the lives of people better through our products and services.The same applies to our stakeholders, whom we engage with regularly."
The selection of topics for Vodafone's Sustainability Report is based on the work carried out by the company in the areas of Sustainability and Corporate Social Responsibility. The report focuses on opportunities and the work carried out in an array of areas grouped together under 6 main headings – Being Responsible and Ethical, Empowering our Customers, Going Greener, Valuing Our People, We Care and the Vodafone Malta Foundation. Through this report, Vodafone Malta is promoting further environmental-friendly procedures such as working in a paperless office, reuse and recycling of waste, e-billing and responsible disposing of electronic equipment waste among others.
"This report is the result of months of hard work because we wanted to present the Maltese public at large a report which encompasses all the sustainability initiatives we have been working on as Vodafone Malta," said Miriam Dalli, Corporate Affairs Senior Executive. "Having this report audited for the second time round was of extreme importance to us. As a telecommunications company we do a lot of work based on our sustainability strategy. We believe that sustainability initiatives have to be embedded in our business and aligned with our vision and future goals and this report is evidence of our work in this regard."
PwC Malta provided an independent limited assurance report focused on quantifiable sustainability information including investment in Vodafone Malta employees, key performance indicators of environmental performance by focusing specifically on energy consumption, water consumption, vehicle fleet, diesel consumption of vehicles, e-billing, recycling of different waste streams, business travel by air and paper consumption together with contributions to charitable organisations among others. The report which has been designed by Redorange combines together the efforts of Vodafone employees who have been active players in this report, particularly as regards compilation of information, writing of the report together with the fact that all models for the report are Vodafone team members and their families.
This Sustainability report has been written for politicians, officials, sustainability experts, the press, NGOs, employees, customers and suppliers. Fully aware of its environmental responsibilities, Vodafone published in hard-copy printed form a few copies of this report. For this year, the company is providing full accessibility to the report thanks to a microsite designed by Alert that Vodafone is dedicating specifically to its sustainability initiatives and results. The Sustainability report can be easily accessible on www.vodafone.com.mt/sustainability.
EMBAROGED IL-ĦADD 31 TA' MARZU