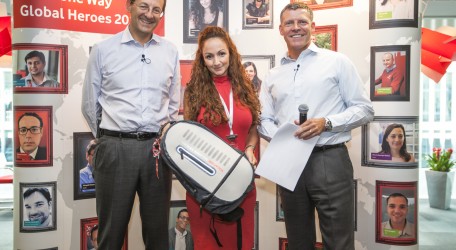 Roberta Pace, the Administrator of the Vodafone Malta Foundation was selected as Vodafone Malta's "Annual Hero" for 2012, and together with 25 other Vodafone Global Heroes from across all Vodafone's Operating Companies attended the Global Heroes initiative in London.
The Vodafone Global Heroe is an award dedicated to high performers and role models who behave in The Vodafone Way.  Heroes from across all OpCos are selected on an annual basis and are recognized for their outstanding contribution and for the results they bring to the company's success. The Vodafone Group Executive Committee identify and recognise "Global Heroes" who are invited to an all-expenses paid International VIP weekend trip to London, where they have the opportunity to meet Vodafone Group CEO, Vittorio Colao, and celebrate with other Global Heroes from around the world.
"I have no words to express the honour for receiving such an award. I dedicate this award to my work mates and to my family because without their support I would have never achieved this. My motto that drives me is Mother Theresa saying: "I'm a little pencil in the hand of a writing God, who is sending a love letter to the world."
"From the moment I landed, I was treated like royalty and it was a very exciting trip. I'm so grateful to the people that strongly believe in me" said Roberta Pace. "One of the most unforgettable experiences was our visit to the London Eye, from there you can see the iconic landmarks such as the Tower Bridge, Big Ben and many more places."
The Heroes' stories are diverse and range from innovative network solutions to simplifying internal processes to improving customer experience. Roberta Pace found new ways on how to raise awareness and engage Vodafone employees in Social Responsability activities within the company. She managed to increase the participation of employees in carrying out voluntary work with charitabe institutions, which are supported by the Vodafone Malta Foundation, and included team building sessions in such activities.
The Heroes from the different operating companies had a jam packed itinerary on the agenda, including a visit to Vodafone's global headquarters in London, a visit to the Mc Laren Technology Centre – home of the Vodafone McLaren Mercedes Formula One team, a Dinner Cruise on the river Thames, a luxurious breakfast at the London Eye, a sightseeing tour of the Tower of London, a top London theatre show, Buckingham Palace audio tour,  English tea at Harrods and dinners in top London restaurants and more.
Photo Caption from L to R: Vodafone Group's CEO Vittorio Colao, Roberta Pace from Vodafone Malta Foundation and Ronald Schellekens Vodafone Group's HR Director.