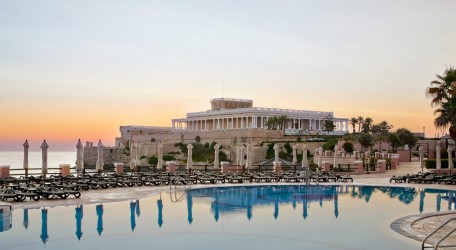 Honoured as a Highly Rated Hotel as Reviewed by Travellers on the World's Largest Travel SitE
The Westin Dragonara Resort announced that it has received a TripAdvisor® Certificate of Excellence award.  The accolade, which honours hospitality excellence, is given only to establishments that consistently achieve outstanding traveller reviews on TripAdvisor, and is extended to qualifying businesses worldwide. Approximately 10 percent of accommodations listed on TripAdvisor receive this prestigious award.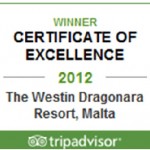 To qualify for the Certificate of Excellence, businesses must maintain an overall rating of four or higher, out of a possible five, as reviewed by travellers on TripAdvisor. Additional criteria include the volume of reviews received within the last 12 months.
"The Westin Dragonara Resort is pleased to receive such an award," said Michael Kamsky, General Manager at The Westin Dragonara Resort. "The hotel has undergone various upgrading works that will offer our guests a remarkable experience, and this accolade is evidence that our hard work is translating into positive traveller reviews on TripAdvisor."
This is the second year that the Westin Dragonara Resort has been awarded such a prestigious accolade and definitely shows the commitment and dedication that The Westin Malta invests in guest excellence.
Visit www.westindragonaramalta.com for more information about The Westin Dragonara Resort.