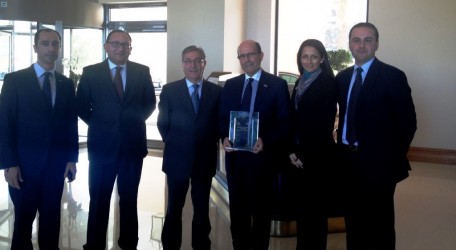 The Westin Dragonara Resort has been presented with the award for 'European Excellence for Accessible Tourism'.
The Malta Tourism Authority launched the European Excellence Award for Accessible Tourism award to promote the development of accessible tourism,. This project, which was co-financed by the European Commission, aims to create awareness about the importance and potential of accessible tourism in all its forms and aspects; and at selecting the best practices, practical solutions, or excellence initiatives which facilitate the access of people with different needs to tourism services.
'It is indeed an honour for all associates, management team and owners to receive such recognition.   At Westin we strive to ensure that our guests' leave the hotel feeling better than when they arrived.  And with this in mind we wanted to ensure that this level of service is offered to all our guests without distinction.  The Title of our Initiative was: 'The Westin Dragonara Resort – a fully accessible resort for all' said Mr Michael Camilleri Kamsky during the award presentation.
The Westin Dragonara Resort, notwithstanding its size has become fully accessible to all without distinction – in a manner that is seamless and comfortable for guests with special needs in a deluxe atmosphere. A primary objective was to enable guests with special needs to enjoy a renewing experience whilst staying at The Westin.
As part of this project the Westin Dragonara Resort has focused on a range of enhancements mainly ranging from having accessible bedrooms located on different floors of the Hotel, specially designed bathrooms as well as installed special lifters in the indoor and outdoor swimming pools. The Resort has also invested in a special person mobility lifter to enable guests with special needs to swim in the sea or swimming pool as they require.
Other areas of the Westin Dragonara Resort are also fully accessible, ranging from the recently refurbished Conference Centre which now also offers a special stage equipment that enables a wheelchair bound delegate or speaker to go on stage without difficulty.
The Westin Dragonara Resort has also invested in Emergency equipment that facilities the evacuation of guests with special needs if needed. Namely an evacuation chair which can be used in staircases during emergencies when needed.     Moreover the Resort invested in special equipment for guests who have a hearing impairment – this equipment will warn guests of any emergency evacuation.
'It is an honour to receive such a prestigious award on behalf of all the team at The Westin Dragonara Resort and I would like to take the opportunity to Thank the Ministry for Tourism for organising these awards because in so doing the Ministry is raising awareness amongst the Tourism industry thereby improving Malta's product.' said Mr Michael Camilleri Kamsky, in his concluding speech.