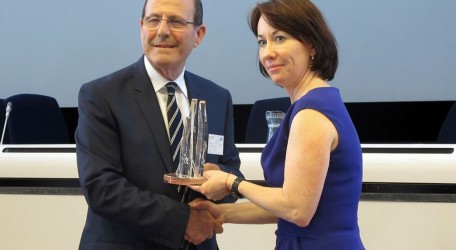 During the recent conference 'Mind the Accessibility Gap – Rethinking accessible tourism in Europe' held in Brussels, the Westin Dragonara Resort was presented with the winning title for 'THE EUROPEAN EXCELLENCE AWARD FOR ACCESSIBLE TOURISM'. This conference was organised by The European Commission, DG Enterprise and Industry to highlight the importance for tourism stakeholders in Brussels where the results of three specially commissioned studies on Tourism Accessibility in Europe were presented and discussed by a distinguished panel of tourism practitioners and stakeholders.
The aim of the conference was to have an open debate about the evidence and seek ways to bridge the many accessibility gaps that have been identified, by drawing on proven good practices from around Europe and establishing concrete actions, using the support mechanisms which the European Commission has at its disposal.
The conference was concluded with an awarding Ceremony for the European Excellence Award for Accessibility and this prestigious award was presented to Mr Michael Camilleri Kamsky, General Manager at The Westin Malta, by Ms. Lubomira Hromkova – Head of Unit Tourism and Cultural Instruments Directorate General for Enterprise and Industry
'It is indeed an honour for all associates, management team and owners to receive such recognition.   At Westin we strive to ensure that our guests' leave the hotel feeling better than when they arrived.  And with this in mind we wanted to ensure that this level of service is offered to all our guests without distinction.  The Title of our Initiative was: 'The Westin Dragonara Resort – a fully accessible resort for all' said Mr Michael Camilleri Kamsky during the award presentation.
The Westin Dragonara Resort, notwithstanding its size has become fully accessible to all without distinction – in a manner that is seamless and comfortable for guests with special needs in a deluxe atmosphere. A primary objective was to enable guests with special needs to enjoy a renewing experience whilst staying at The Westin.
As part of this project the Westin Dragonara Resort has focused on a range of enhancements mainly ranging from having accessible bedrooms located on different floors of the Hotel, specially designed bathrooms as well as installed special lifters in the indoor and outdoor swimming pools. The Resort has also invested in a special person mobility lifter to enable guests with special needs to swim in the sea or swimming pool as they require.
Other areas of the Westin Dragonara Resort are also fully accessible, ranging from the recently refurbished Conference Centre which now also offers a special stage equipment that enables a wheelchair bound delegate or speaker to go on stage without difficulty.
The Westin Dragonara Resort has also invested in Emergency equipment that facilities the evacuation of guests with special needs if needed. Namely an evacuation chair which can be used in staircases during emergencies when needed.     Moreover the Resort invested in special equipment for guests who have a hearing impairment – this equipment will warn guests of any emergency evacuation.