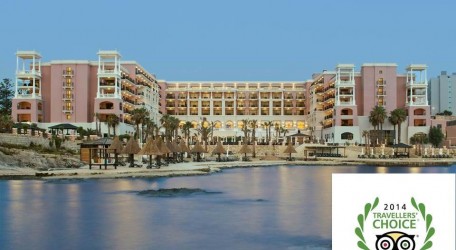 The Westin Dragonara Resort has achieved two prestigious titles in the 2014 Traveler's Choice® awards by Tripadvisor.  Ranking 2nd place out of 10 in the Top Luxury hotels in Malta category and 3rd place out of 10 in Top Hotels in Malta category truly reflects the high level of quality and service that the Westin Malta is renowned in offering.
In the 12th year of the awards, the world's most outstanding properties were identified in the categories of Top Hotels, Bargain, B&Bs and Inns, Family, Luxury, Romance, and Small Hotels.
Travelers' Choice award winners were determined based on the reviews and opinions of millions of TripAdvisor travelers around the globe.
'We are honored to rank highly in these two very important categories.  The Westin Dragonara Resort always strives to offer guests top notch service and exceptional experience throughout their stay in Malta.  During 2013 The Westin Dragonara Resort invested heavily in upgrading a wide variety of the hotel facilities and this has been reflected in the positive comments that our guests have shared on TripAdvisor during the past year. Winning these two accolades reinforces our commitment of offering the Westin guest a renewing experience when visiting Malta and our Resort' said Mr Michael Camilleri Kamsky, General Manager at The Westin Dragonara Resort
"We're excited to recognize the world's best properties, based on the opinions of those who know them best – the millions of travelers around the globe who come to TripAdvisor to share their experiences," said Barbara Messing, chief marketing officer for TripAdvisor. "For those seeking inspiration for their 2014 travel planning, this list of spectacular accommodations that received 2014 Travelers' Choice awards is a perfect place to start."
Further information about The Westin Dragonara Resort can be obtained on www.westindragonaramalta.com and www.westindragonaramalta.com/tripadvisor