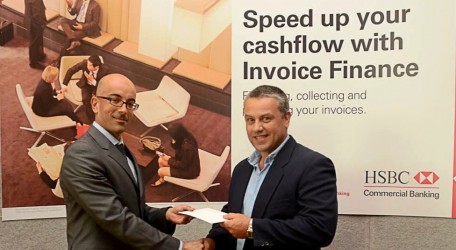 Pictured above:  Vincent Borg, HSBC Bank Malta Senior Manager Receivables Finance, presenting a gift to one of the seminar participants
A panel of experts from Malta's financial sector led a seminar that tackled the recent developments in EU Directives and the legal stages of debt collection, among other topical issues that are pivotal for sound cash flow in Maltese firms.
Entitled 'Turnover is Vanity, Profit is Sanity & Cashflow is Reality', the seminar was organised by the Malta Institute of Accountants (MIA) and The Malta Association of Credit Management (MACM) with the support of HSBC Bank Malta and www.di-ve.com.
Several prominent business owners, company directors, accountants and other professionals from Malta's business  sectors attended the event. Interactive two-way discussions between the expert panel and attendees addressed the best management strategies and practices for sound cash flow. The link between turnover, profit and cash flow was discussed in detail.
"The skills and knowledge of accountants allow them to offer a range of services to their clients. An accountant can act as an advisor whilst members of the business community look at the accountant as someone they can trust. This event was of great benefit to accounting professionals as it gave them the opportunity to update themselves on the EU Late Payment Directive and the Legal Stages of Debt Collection as well as learn about good credit management practices," said Catherine Mallia Bonavia, CPE & Relationship Officer of the Malta Institute of Accountants.
"This is the first time MIA has worked with MACM and we are very pleased with the success and positive response received from participants. MIA will continue to strive in providing high quality CPE events for its members," she said.
Josef Busuttil, MACM Director General, said: "It was both intuitive and fruitful for the local business community to address the current topical matters related to the management of cash flow and accounts receivable. As a result of the proficient speakers addressing the seminar, the local business community and those involved in the field of credit management had the opportunity to update themselves with the revised EU Directive aimed at combating late payment in commercial transactions as well as understand the local judicial procedures.
"It was encouraging to note the active participation of the delegates. MACM strives to continue providing the necessary and appropriate tools and information to assist the local business community to take better and more profitable credit decisions," he said.
Michel Cordina, Head of Commercial Banking of HSBC Bank Malta said:  "HSBC continues to take a leading role in supporting the local business community with their credit needs. At HSBC, we understand that a healthy cash flow is one of the key performance indicators for any business particularly in these challenging times. Invoice Finance is the ideal product to assist companies to collect their receivables in a timely manner which will in turn boost their working capital."