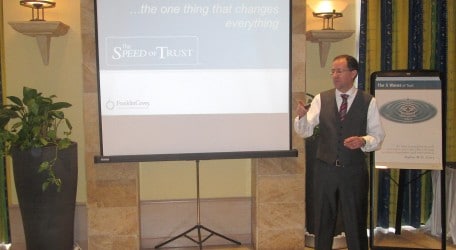 FranklinCovey's The Speed of Trust™ was previewed to a select audience of decision makers during a launch event at the Corinthia Hotel, St George's Bay, last month.
In his introduction, Malcolm J. Naudi, Managing Partner of Achieve Business Consultancy and Training, FranklinCovey's franchise owners in Malta and Gozo, explained how FranklinCovey, a global company, specialises in performance improvement. "We help organisations achieve superior results that require a change in human behaviour," he stressed.
Having so far brought productivity and leadership programmes and expertise to several local and international clients in all spheres since the practice was launched in Malta and Gozo in late 2010, it is now the turn of Trust, both in terms of consultancy and programmes that will enable its implementation.
"We have a dynamic team prepared to assist you achieve your business goals and can tap into the considerable resources of FranklinCovey in research and development to bring about their successful implementation," Mr Naudi said.
Jimmy Naudi (pictured above)  a member of the Chartered Institute of Personnel Development and an accredited FranklinCovey facilitator, then conducted a work session outlining The Speed of Trust Transformation Process™. He demonstrated how Trust can be leveraged to dramatically impact business outcomes by changing the performance of individuals and teams.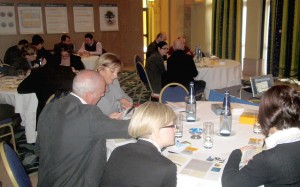 Quoting Stephen M.R. Covey, he said: "Trust is the one thing that changes everything." Delegates at the event were invited to identify the 4 Cores of Credibility, how to measure trust and levels of trust. He pointed out the 5 Waves of Trust, helped delegates list Trust taxes and dividends, and 13 behaviours of high trust. Smart Trust was also placed in a matrix, with the propensity to trust weighted against individual or group analysis.
For more information on FranklinCovey's The Speed of Trust Transformation Process™ e-mail [email protected] or go to www.franklincovey.com.mt.